Tea Plantation in Darjeeling
Tea plantations are little more than just a piece of terrace farming. They are emerging as a new element of tourism, which is now called as tea tourism. Darjeeling is called as the Mecca of Tea. Darjeeling has more than 80 plantations scaling thousands of acres of lands along the slopes. You can find high grade first flush tea to exotic flavoured teas here.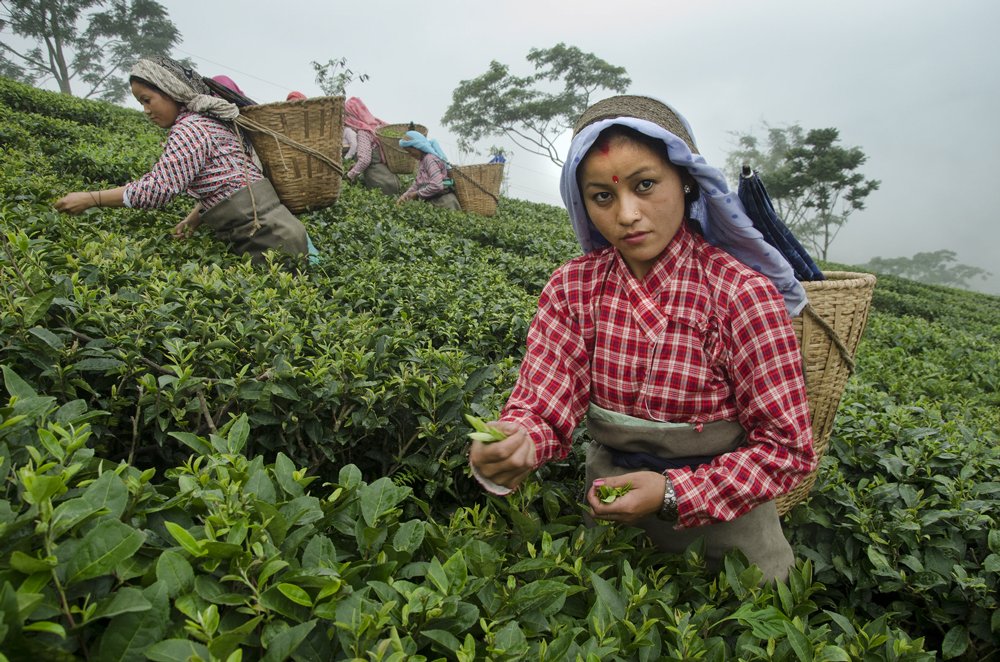 On a misty morning, you can find many tourists visiting plantations for enjoying various activities.
Top activities to enjoy in plantations in Darjeeling
Tea plucking – some plantations allow you to dress up like the workers and pluck tea.
Tea processing sightseeing- visit to the factory where the tea is dried, rolled and packed.
Strolling.
Photography.
Village tour or jeep tour along plantations.
Tea plantation stay in bungalows or tree houses.
Spotting sunset from plantation.
Tea festival is a small celebration that takes place in November and December in Darjeeling and Sikkim. This festival is famous for cultural activities and sightseeing. Not all plantations are open for visitors. Check with the security or the workers whether tourists are allowed inside.
Suggested Tour :
Staying in Darjeeling
Staying in a tea plantation is for luxury travelers. You can find low budget accommodations facing the plantations. If you choose to stay in the plantation, you can enjoy free organic food from ingredients grown in the backyard, enjoy garden activities and enjoy the finest fresh tea. The cost might be high but it does not make you feel more pampered. It is all about staying closer to nature and enjoying it in its raw form.
Top tea plantation accommodations in Darjeeling are
Singtom tea estate resort
Makaibari tea estate
Glenburn tea estate
Ging tea house
Sourenee tea resort
Goomtee tea estate
Best time to visit Darjeeling
Summers can provide good vacation experience in Darjeeling but the plantation would not be ready for plucking. You can watch tea processing and enjoy strolling but the aesthetic feel of the place might not be the best. Summers start in March and ends in June. Monsoon starts in July and ends by September. Monsoons are worst time to visit the place for plantation based activities. The place is mushy and walking or travelling would be uncomfortable.
Winter is the best time to visit the place. The winter starts in October and ends in March. The resorts should be pre-booked to avoid last minute confusions.
Cost 
The cost for entry and visit to the processing center changes from one plantation to another. The fee would be minimal. If you are choosing bungalows in plantation for a tea tourism, the cost will be higher and depends on the service provider.
Souvenir
Some plantations have small shops for you to buy souvenirs related to tea. You can find numerous flavors of teas here. The most commonly bought one is the Darjeeling black tea. If you are ready to pay a hefty amount, try authentic white tea. You can also find wooden tea boxes, which are made out of wood for storing tea. The boxes have exclusive decorations and can be gifted as jewellery box too.
Tips for plantations in Darjeeling
Do not litter the place. You might be fined for the same.
Do not cause damage to the plants. It is a cash crop and you might be under trouble.
Do not stroll alone away from the intended space. Certain areas might be slippery.
Do not blindly buy tea from any plantation and expect it to be of high quality. Choose the right place or plantation for buying.
There are plantations that provide bonfire options for its guests but, do not start one without prior permission.
Many tourists pluck tea leaves to dry it and save it as souvenir. Ask permission before you do so.
Suggested articles:-