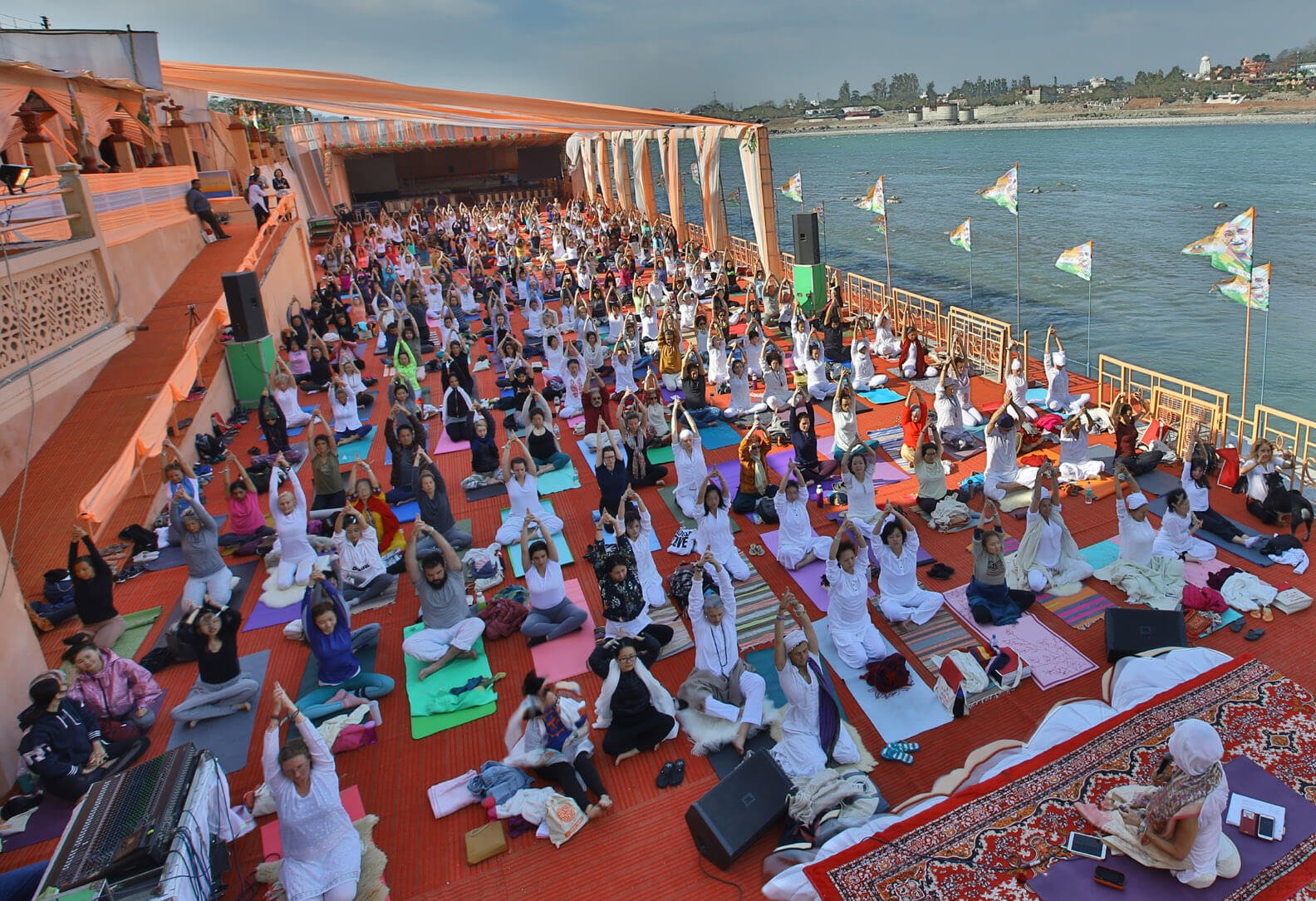 "Yoga – to unite the self with divinity. This ancient science brings not only health to the body but peace to the mind and relaxes the soul".
The International Yoga Festival 2020 is a week long 'immersion' where a participant experiences every type of Yoga. You can do this under the guidance of Master Yoga Teachers, spiritual and thought leaders and global wellness experts.
The day starts early in the morning at 4 am and ends at night 9.30 pm. There are also culture dance performances, traditional hymns, bhajans and kirtans and an experience beside the famous banks of River Ganges.
History of International Yoga Festival
The very first International Yoga Festival was held in the first week of February, 1999 at the Hotel Ganga Kinare. This was an initiative of the Uttar Pradesh Tourism where the Parmath Niketan Ashram hosted the week long festival. However, the accommodation for the tourists was done at the hotels and the yoga sessions, programs and classes were organized at the Parmath Niketan Ashram. Various yogacharyas and Swamis held these yoga exercise and meditation classes. The first group of people residing at a nearby hotel is now a famous International Yoga Festival with visitors from over 30 countries participate in one of the most famous annual international festivals of variety of Yoga.
When is the Festival held in 2020?
The International Yoga Festival is held starting from Sunday - March 1, 2020 to Saturday - March 7, 2020 of this year.
Where is the Festival held?
The International Yoga Festival 2020 is organized at Parmarth Niketan Ashram, Rishikesh, PO Swargashram, Uttarakhand - 249304
How is International Yoga Festival celebrated?
The International Yoga Festival is a great opportunity to experience various styles and forms of Yoga directly under the sessions taken by renowned Yogacharyas and Swamis. The celebration lasts for 7 days that offers 70 hours of Yoga classes for participants from around the world. You can experience the authentic original Yoga passed down from pure yogics to masters from such lineages of ancient India.
The highlights of this festival include the Kundalini Yoga, Kriga Yoga, Iyengar Yoga and Vinyasa Power Yoga. There will also be the masters of International Yoga Schools, and spiritual swamis from India will share their presence, words of divinity and satsang during this festival. There is a special stage space for the willing participant to unwind and awaken on the Sacred Sound Stage by the Power of Sound.
Nearby Attractions
There are several other attractions in and around Rishikesh. There are wildlife sanctuaries and nature parks, museums, temples and places for spiritual enlightenment. Some within 50 km are given here.
1. Beatles Ashram
This ruined structure by the banks of River Ganga within the vicinity of an amazing national parks is a must visit. The Maharishi Mahesh Yogi ashram housed the Beatles in 1968 and hence got the well known name Beatles Ashram. It is also said that the famous rock group wrote most of the 'White album' here. Now it is more of a pilgrimage site amidst the National Parks and has a lot of graffiti.
2. Rajaji National Park
A place abundant in nature and wildlife rare species with water streams, flora and fauna, etc. It is a great place to visit very near to Ashram. While entry fee for foreigners is Rs.600/- the jeep safari costs around Rs. 1500/- approximately. There is also a Rajaji National Park Travel Circuit where you can take training for river rafting and enjoy yourself in addition to seeing wildlife.
3. Ram & Lakshman Jhula
This is the most famous ghat on the banks of River Ganga. Here you spot people taking holy dips, and many rituals performed. Although mentioned here is only the most famous Ghat, you can also view the various processions and evening Ganga Aarti Ceremony that takes place at evening time to view an illumined Ganges.
4. Ghats of Ganges: Triveni Ghat
This is the most famous ghat on the banks of River Ganga. Here you spot people taking holy dips, and many rituals performed. Although mentioned here is only the most famous Ghat, you can also view the various processions and evening Ganga Aarti Ceremony that takes place at evening time to view an illumined Ganges.
5. Ranichauri (70 KM distance)
Offers splendid view of snow capped mountain ranges of Himalayas. There are camping facilities, yoga and meditation sessions and is located in a scenic location of nature. This is still in a developing stage but this is an ideal place for yoga and meditation.
Where to Stay during International Yoga Festival?
There are various types of stay and accommodations available in Rishikesh which is the place where this Yoga Festival is held. You can opt for luxury resorts, budget home stays and pocket friendly accommodations, as per your need and comfort levels.
If you are looking for the resorts to stay at Rishikesh, few of them include the Parmath Niketan Ashram, Aranyam River Retreat, Ananda near Himalayas, Divine Resort and Glasshouse at the River Ganga. Other hotels or budget stays include Hotel Rishabh, Hotel Shivanta Residency, Divya Hotel, Hotel Welcome, and others.
Haridwar is another great option to stay at during your stay for the week long yoga festival. It is also known for the spiritual enlightenment and has various sightseeing spots to check out. It is also close in distance to the Ashram.
Important Travel Tips
If it is the first time you're visiting Rishikesh for the International Yoga Festival these travel tips will give you some basic idea of what you can expect at the place
As it is a temple city and spiritual pilgrimage site there is very little non vegetarian food available here.
No intoxication as you cannot find alcohol as this is also not allowed so you can meditate and do yoga.
Rishikesh has great travel attractions and tourists attractions close by. It is a great shopping place too. So you can purchase Yoga items like mats, clothes, etc., holy books, traditional handicrafts, Yak scarves, etc. here.
Tourists may have been notified earlier to negotiate while purchasing something in India at markets or shops but here are fixed prices or similar prices by most shops around.
You will find many monkeys on the roadside and try to be safe from the mischievous monkeys who can also come and grab your food especially on narrow foot over bridge or near eateries or restaurants. Do not hold chips, eatables, or soft drinks in your hands while walking.
At the Ashram, please remove footwear and cover shoulders / knees as a mark of respect.
If you have any doubts and are not sure what to do or how to do you may also ask around or do like the others.
There is wi-fi facility in many zones around the Ashram especially the Yoga Garden and Ganga and Yamuna Block as well as near the reception.
Female travelers are advised not to venture out alone especially in the evenings.
Do not go into nearby forests as there are wild leopards and elephants.
NEVER accept anybody to visit you alone in your room with the excuse to give spiritual healing, miracles, astro-reading, etc.
Unauthorized people are not allowed to visit in the accommodation.
There is also a dispensary open at specific timings only. If required medical attention, there is also a resident doctor and you may contact the reception area for that.
Greet people by folding hands which is a custom 'Namaste' as a traditional greeting to others.
There is safe drinking water coolers to fill up your water bottles, laundry facility, hot water availability and a reception desk at each residential block to help out with concerns.
How to Reach the International Yoga Festival?
By Air
The closest airport situated near to Rishikesh where the International Yoga Festival is held, is the Jolly Grant Airport in Dehradun. It is situated 35 kilometers away from Rishikesh. Another option is to reach Delhi Airport and take a local flight to Dehradun Airport or even road transport from there to Haridwar or Rishikesh.
By Train
The nearest train station is Haridwar Junction Railway station from where also you get a local bus to reach Rishikesh. Cabs / Taxis are also available from railway station to the Rishikesh.
By Road
There is intercity bus service plying from the National Capital of Delhi to surrounding cities including Rishikesh. Many taxis are available to the Ashram from Dehradun and Haridwar. 45 minutes taxi drive from Dehradun Airport to Ashram. 1 hour drive from Haridwar Junction to Ashram. They charge INR 1500 – 2000 for one way trip to Rishikesh as per travel experts guidance.