10 Best Luxury Spa and Ayurvedic Resorts in India
In the recent years, the spa and rejuvenation industry in the country has witnessed an upswing with more and more spas and parlor blooming like mushrooms. There are several acclaimed and award winner spas and destination resorts sprinkled around the country, each with its own unique features. The most frequently visited spots amongst them include places like Kerala, which has deep roots in Ayurveda and the Himalayan region with mountains and forests and many rare endemic special of flora.
But skin treatments and massages with Ayurvedic principles is spread evenly around the nation in India and have now evolved to include several other foreign therapies as well. Hydrotherapy, reflexology, aroma therapy, and meditation coupled with light yoga are just some of these unique treatments. Spas are the best places for relaxation after a long hard week, as all you need to do is lie back and let the experts pamper you, release your physical knots and help you melt into ultimate relaxation.
If you are looking for some inspiration to visit a spa destination in India, read on to find the 10 best spa and Ayurveda resorts in the country.
1. Ananda in the Himalayas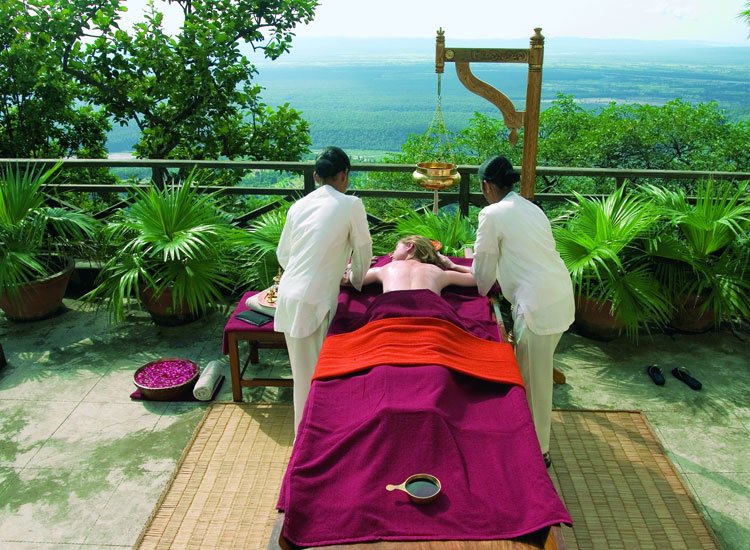 One of the highest regarded spas in the country, Ananda in the Himalayas is tucked in between the peaks of Rishikesh, with picturesque view all around and a perfectly calm, spiritual vibe surrounding the hilly town. The spa is built on Maharaja's Palace estate against panoramic views of breath-taking Himalayas. There are a plethora of therapeutic treatments based on traditional Indian practices of Ayurveda, meditation and yoga.
Cost of Ananda – Spa and accommodation packages for couples cost around USD 1000, per night and for singles costs USD 700 per night
Location of Ananda – The Palace Estate, Narendra Nagar Dist. Tehri-Garhwal, Uttarakhand. Phone: (91 1378) 227-500.
What's recommended – Try the seven nights Ayurvedic Detox program, or the three nights Himalayan Bliss package which will offer you with signature Ananda spa treatments and an assortment of active or cultural experiences.
Must Read: Best 10 Places to Visit in Uttarakhand in Summer with Family
2. Vivanta, at Taj Bekal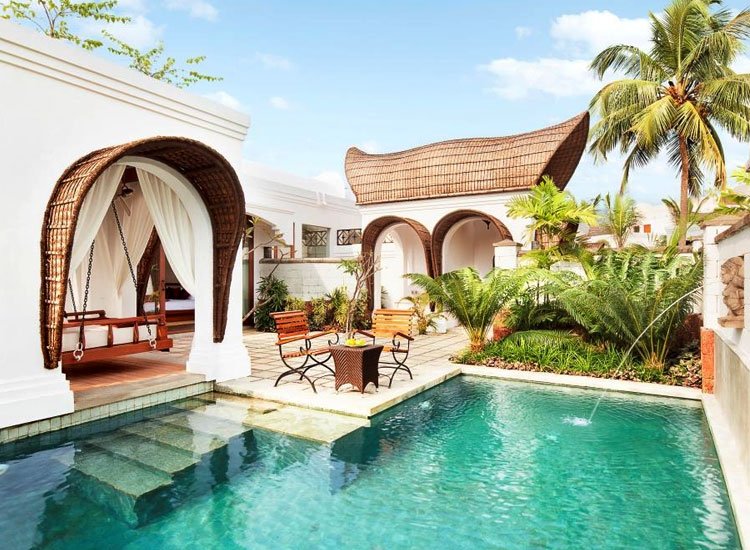 The Taj group of hotels has a reputation for its specialized Jiva spas and the Vivanta spa is an out-of-the-world experience. It is one of the largest Jiva Grande Spa, spread over a massive area of 165,000 square feet, situated opposite to the riverside from the actual hotel area so that total seclusion can be offered to its patrons.
Vivanta is unique with its long-term, wellness programs of 2-4 weeks in duration, as well as other signature experiences, with specialized Ayurveda programs, soothing Indian aromatherapy, scrubs and wraps, and other beauty rituals.
Cost – INR 13,000 or USD 200 for a double room per night, treatments start from INR 2,700 to INR 7,000 for individuals
Location – Kappil Beach, Bekal, northern Kerala. Phone: (91 467) 661-6612.
What's recommended –  Try the purifying bathing ceremonies, body anoinment experiences, and the ritualistic homam fire ceremonies.
3. Leela Palace, ESPA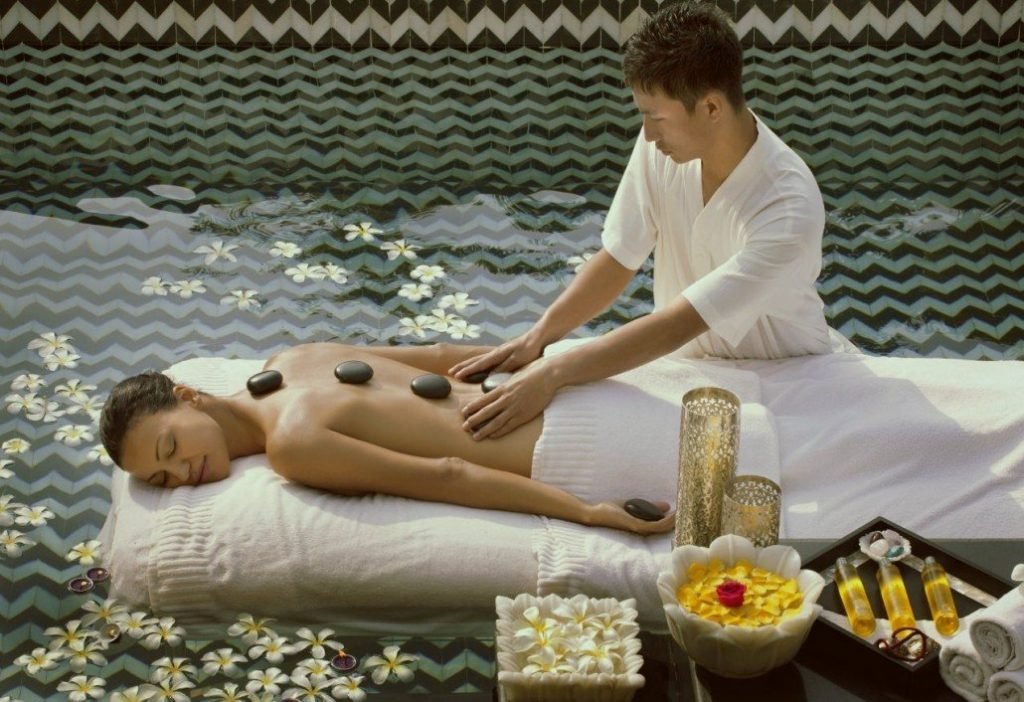 The Leela Palace Hotel in Udaipur has the only tented luxury spa in the country. it is tucked amidst beautiful gardens and overlooks breath-taking views of the Lake Pichola at the centre of Udaipur. The interiors are amazingly lux spaces divided into different treatment rooms with crystal chandeliers and grand amenities.
Cost – A 3-day spa treatment along with a spiritual experience will cost around USD 2000 for a couple, this will also include accommodation, spa treatments, breakfast and is inclusive of taxes.
Location – Lake Pichola, Udaipur, Rajasthan. Phone: (91 294) 670-1234.
What's recommended – Most visitors recommend the Spa and Spiritual Journeys here which also include, tour of local temples with a private guide. One can also try the authentic, pre-natal and post-natal treatments designed to relax the physique and tone the skin of pregnant and nursing mothers.
Explore the best tour packages of Udaipur
Read more about – Lake Pichola – Travel Guide to Udaipur's Finest Place
4. Park Hyatt Resort and Spa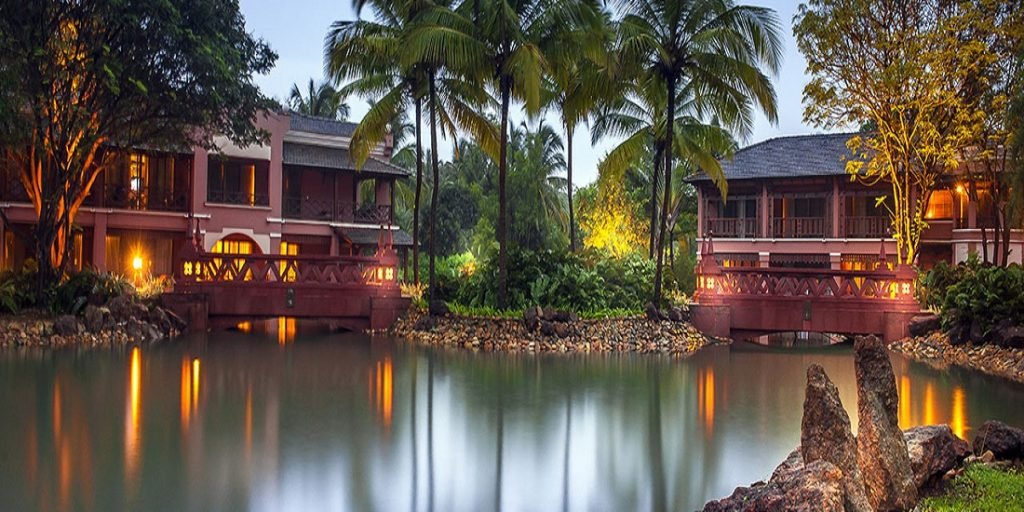 One of the most luxurious resorts in the beach destination of Goa, the Sereno Spa in the Park Hyatt is a treat for all your senses. Situated in a private beach area occupying a massive 36,000 square feet the beautiful beach outdoors offers the best spa experience with breath-taking views.
Cost – It will take approximately USD 600 for one night spa treatment for two.
Location – Arossim Beach, Cansaulim, South Goa. Phone: (91 832) 272-1234
What's recommended – Enjoy specialized restorative spa therapies signature to the hotel with the Wellness at the Park package. For newlyweds and romance-lovers the Mithun Couple's Spa Experience comes highly recommended you can also try the  and yoga and meditation sessions for complete relaxation.
Also explore the some of the famous yoga retreat in Goa.
Check out the Goa tour packages
5. Niraamaya Retreats Surya Samudra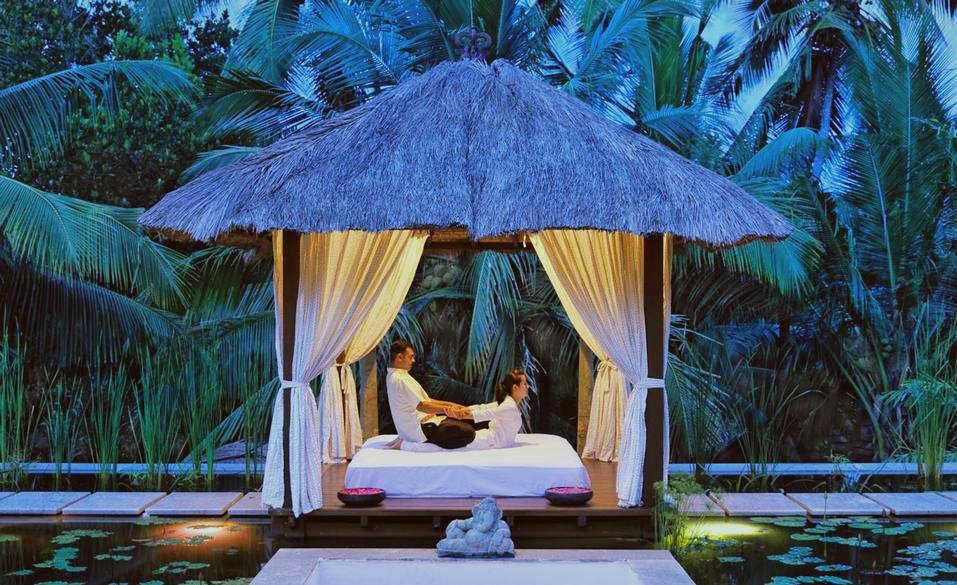 Located beside the Arabian Sea in Kerala, the amazingly luxe Niraamaya Retreats Surya Samudra offers its guests with bespoke transformational experiences. The spa includes a range of natural therapies from around the world, which includes Ayurveda, yoga, reflexology, European healing practices, and Chinese and Thai treatments. There is a spa doctor in the house who supervises and administers each of these treatments.
Cost – begins with USD 760 per night for their special seven nights Stress Diffuse program with additional charges on accommodation. Rooms cost USD 150 and above depending on the type, facilities and size
Location – Pulinkudi, Mullur, south of Kovalam, Kerala. Phone: (91 471) 226-7333.
What's recommended – Custom made treatments and programs for weight loss, stress management, and detox.
Suggested tours – 15 Days Kerala Ayurveda Tour
6. Kaya Kalp the Royal Spa
A newly opened spa retreat located within the ITC Mughal hotel. Occupying a whopping 99,000 opulent square feet, this is one of the largest spas in Asia. Giving justice to its name the spa is a royal experience with lavish interiors decorated with stone latticework, mother-of-pearl inlays, marble floors, and ornate mirror-work with complete Mughal décor. The spa also houses the first authentic luxurious hamam in India.
Cost – $100 for the 70 minute Royal Mughal Hamam Spa Journey, $160 for the 120 minute Passage to India Spa Journey, 180 minute couple's packages, $300, or $150 for a room per night. $35 for a 30 minute tension reliever massage, $80 for a 90 Relaxation Ritual.
Location – ITC Mughal Hotel, Taj Ganj, Agra. Phone: (91 562) 233-1701.
What's recommended – Try their special guided meditation with Ayurvedic treatments to restore the mind and body, named passage to India Spa Journey.
Suggested tour – 10 Days Spa Ayurveda and Taj Mahal Tour
7. Wildflower Hall Spa
Ah fresh air, mountain views of snow capped peaks, tucked amidst cedar forests the Spa Pavilion at the Oberoi's Wildflower Hall Resort is a haven of peace. One of the highest ranked spas in the country it is known for its uses plant and flower essences in its aromatherapy and Ayurveda based treatments.
Cost –  Approximate charges include: $300 per night for a room.  $90-$130 for massages, $50 for body scrubs, $85 for body wraps, Ayurvedic treatments from $80, spa programs from $130, $25 for yoga, meditation and pranayama
Location –  Oberoi Wildflower Hall Resort, Chharabra, near Shimla, Himachal Pradesh. Phone: (91 177) 264-8585.
What's recommended – One must try the luxurious Himalayan Retreat spa program, which includes body scrub, Indian head massage, full body massage, and Himalayan cedar bath
8. Atmantan Resort Spa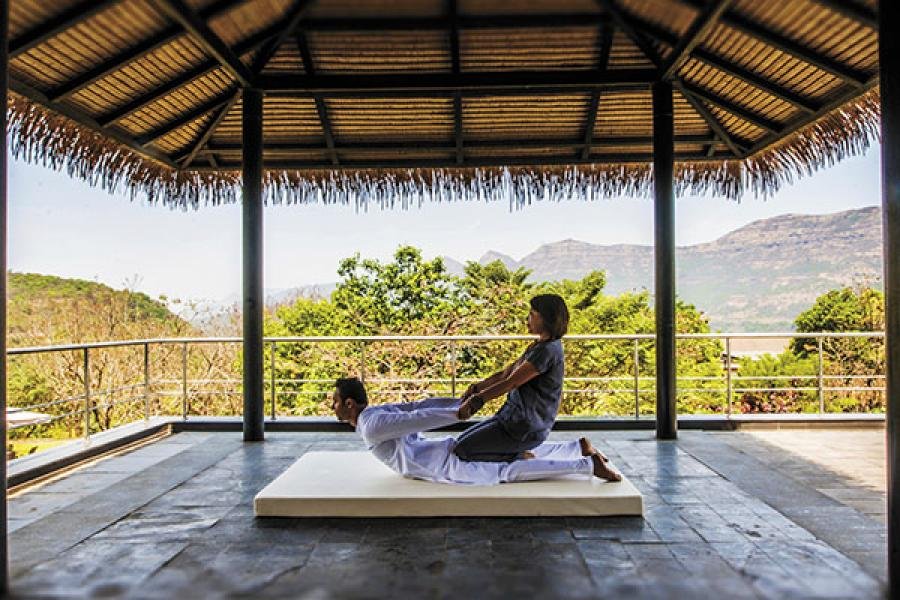 This is new spa destination occupying over 40 acres in the Sahyadri mountain range; it overlooks the beautiful Mulshi Lake, between Mumbai and Pune. The spa is known for its list of unique treatments which is designed to aid the body's innate ability to self-heal. It includes treatments like, Ayurvedic and western massages, acupressure, aromatherapy, anti-ageing facials, purifying body polishes and wraps, Balneotherapy, colonics, and Pranic healing. The spa also houses an authentic Turkish hamam.
Cost – The pricing starts at $2,500 for two people for three nights, inclusive of all meals and spa treatments, one can choose from anyone of the wellness programs.
Location – Mulshi, Pune, Maharashtra. Phone: (91 20) 6676-6666.
What's recommended – Atmantan Living and the Spa Life program top the list.
9. The Roseate (Dusit Devarana) Aheli Spa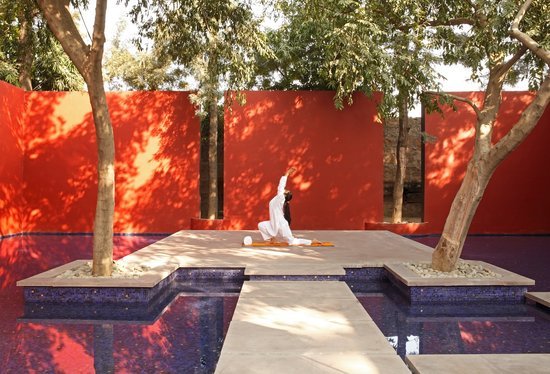 The Roseate is a hidden gem of boutique hotels in Delhi, formerly known as Dusit Devarana, it is set around the leafy surroundings of south Delhi outskirts. It houses the infamous Aheli Spa that was ranked Best Luxury Resort Spa in India in the 2016 World Luxury Spa Awards. It also houses the only Turkish hamam in Delhi.
Cost – $300 per night for a double room. Spa treatments. 60 minute massages cost around $65, or $80 for 90 minutes. The traditional Hamam costs $95 for 75 minutes. 60 minute body wraps cost $65
Location – Samalkha, National Highway 8, New Delhi. Phone: (91 11) 3355-2211.
What's recommended – The Aheli Signature treatment is a must try for everyone
10. Amatrra Spa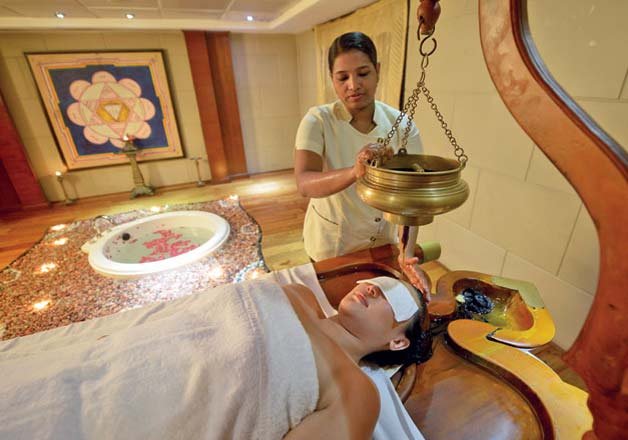 Rejuvenate in the super lux interiors of 20,000 square feet with all A-list regulars at this spa in Delhi which offers a unique blend of traditional Indian Ayurvedic treatments, along with a lesser-known Oriental therapy. The spa has state-of-the-art facilities like flotarium, meditation room, couples suites, Vichy showers, and juice bar.
Cost – Ayurvedic treatments from $40-110. Signature therapies from $130-160. Hot stone massage, $110, Foot massages $20. Aromatic baths $35, Half day packages, $300 for two. Healthy lunch and massage, $95 for two
Location – The Ashok Hotel, Diplomatic Enclave, 50 B Chanakyapuri, New Delhi. Ph: (91 11) 2412-2921.
What's recommended – Amatrra signature Bouquet package that includes a unique chakra balancing as well as the infamous Ayurvedic dhara (oil drip) treatment on the forehead.
Best of tour packages – 15 Days Golden Triangle & Ayurveda
Few  more suggested articles:-
Plan your Luxury tour with Deccan Odyssey Luxury Train !!!