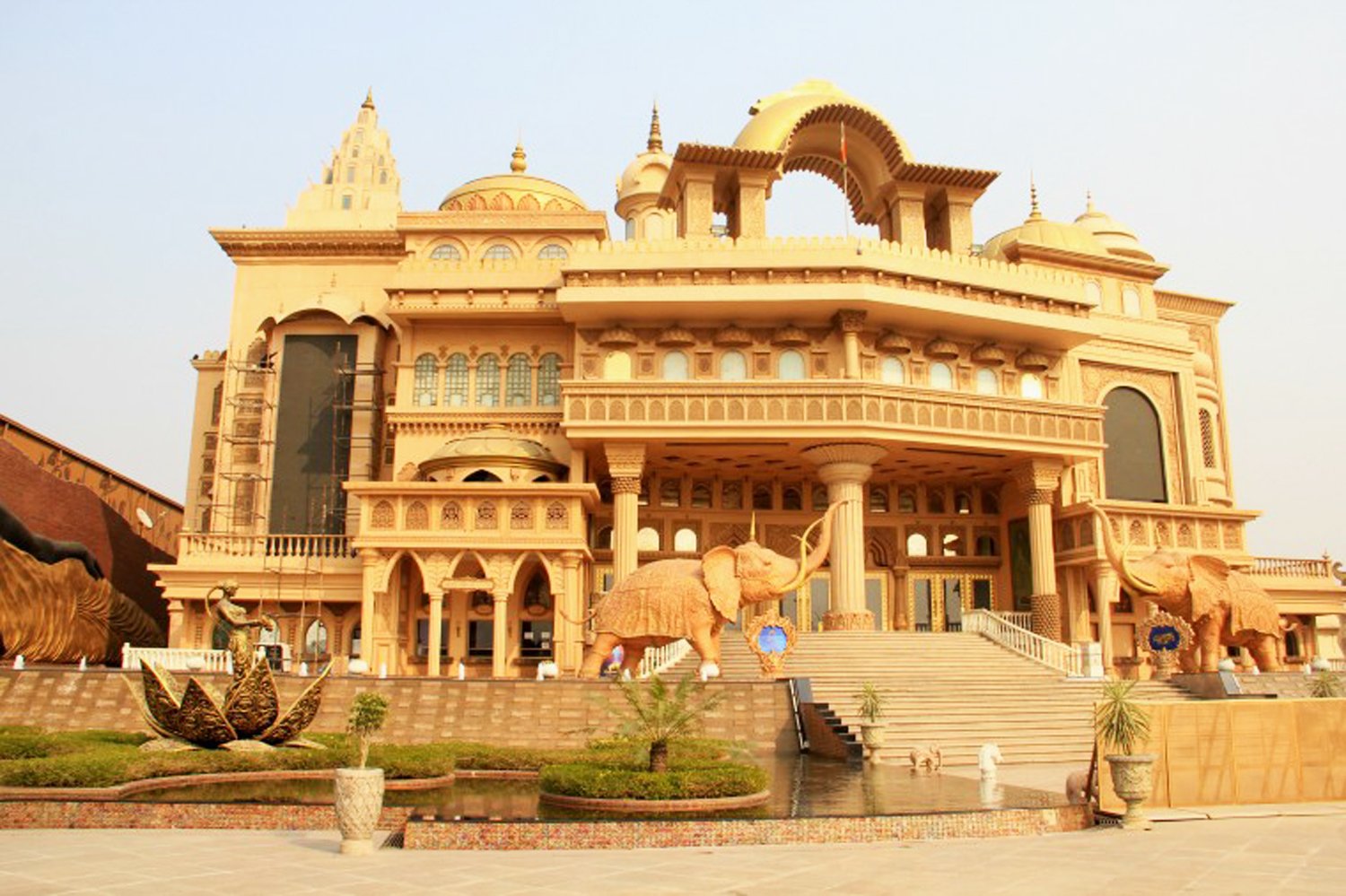 The very first live entertainment destination in the country is a splendid complex shining in the Sector 29, Gurugram or Gurgaon, India.
The place comprises of two theatres of international standard namely Nautanki Mahal and Showshaa Theatre and a culture dining place called Culture Gully with the first skydome in India.
It promises cultural treat to the visitors in blend of contemporary India as well as modern India.
It offers a mesmerizing tour of various cultures and traditions and lifestyle of different parts of India through galleys, interactive tableaus, and art.
History of Kingdom of Dreams
Called KOD in short, the entertainment, leisure and theater is spread across a massive region of six acres of land and is operated by Great Indian Nautanki Company. Initiated by the GINC it is co-owned by Wizcraft International Entertainment and Apra Group. The center was inaugurated on 29th January 2010.
The grand inauguration was done by Chief Minister of Haryana Bhupinder Singh Hooda along with well known Bollywood lyricist Javed Akhtar and top music composers namely Ehsaan and Loy. The grand entertainment center that has all for visitors – from live theatre to art and culture, fine arts, dining, games, entertainment, and shopping, was set up on a massive budget of two billion rupees.
There are top Bollywood superstars connected with KOD's brand ambassador as Shahrukh Khan. Within the Kingdom of Dreams there are performing arts, massive musicals and also live theatre. Two of such productions include the Jhumroo and Zangoora, largest Bollywood musical.
Top Things to do in Kingdom of Dreams
1. Jhumroo
This is a musical comedy on a massive set with state-of-the-art technology dedicated to Kishore Kumar. It features 19 of the famous Bollywood icon's retro tracks. The story that live plays is about a boy next door called Bhola who dreams to get successful in Bollywood.
He is a singer and confesses his Meena, the leading lady in the live stage performance played out by Television Star Shweta Gulati. Presently, Bollywood actor Anshuman Jha plays lead character of Bhola – while earlier it was Gaurav Gera and directed by Vikranth Pawar who also is associate director of the show Zangoora – the Gypsy Prince.
Ticket Price and Package for Jhumroo Show Timings
Ticket Price (Per Person)
Diamond (Weekdays) - INR 2,999
Diamond (Weekends) - INR 3,999
Platinum (Weekdays) - INR 2,499
Platinum (Weekends) - INR 2,999
Gold (Weekdays) - INR 1,999
Gold (Weekends) - INR 2,499
Silver (Weekdays) - INR 1,499
Silver (Weekends) - INR 1,999
Value (Weekdays) - INR 1,199
Value (Weekends) - INR 1,299
Economy (Weekdays) - INR 1,099
Economy (Weekends) - INR 1,249
Bronze (Weekdays) - INR 1,249
Bronze (Weekends) - INR 1,499
Note: No Entry Fee for kids less than 4 ft. in height.
Zangura – The Gypsy Prince
The renowned Javed Akhtar of Bollywood has written this musical while the music offered by some of the well known Indian musicians such as Shankar, Ehsan and Loy.
It is a lengthy duration up to 5 hours of live performance shocasing at at a premier entertainment place called Nautanki Mahal at Kingdom of Dreams. It offers vibrant colors and hgih decibal music extravaganza in one of the world's most glamourous and cinematic cum theatrical type musicals.
Beyond Bollywood
The grand musical premiered in Mumbai and got incredible appreciation playing successfully all over the continent of Europe. It is about the love and legacy and opened at London Palladium.
This show has toured in several different countries of Europe and includes France, Germany, Algeria, from London to Brussels. The musical is a story of a dancer and brings together Bollywood the Indian cinema and Indian culture. Rajiv Goswami is the writer, director, and choreographer of the musical that comprises of Salim Sulaiman's nine original music compositions while the lyricist is Irfan Siddiqui of movies like Fashion, Iqbal, and Heroine fame.
Nautanki Mahal
This is the palace that hosts the two famous grand musicals namely Jhumroo and Zangoora – the Gypsy Prince. The visitors who would like to see the two mystical shows must purchase tickets at the outer ticket counter. There is also a lounge available for a break where you can have snacks and beverages at intervel time.
The massive auditorium that is shaped as a palace comfortably seats 864 guests and features hydraulic stage with matrix sound system. It is the best place for a great family entertainment where you can catch Indian Cinema in lively shows.
Other Major Attractions at Kingdom of Dreams
1. Showshaa Theatre
The future technology features in the KOD insides with hydraulic central revolving system and retractable versatile seating for viewers / guests. It is one of a kind in the whole country for future type auditorium seating. The maximum guests that can be seated here are up to 300 people. The activities that take place here include the large stage performances, show events and thematic production activities. There is also customized dlighting with high technology sound system audio and a superior quality video. The projection also offers awe inspiring experience.
2. IIFA Buzz
Launched by the big Khan of Bollywood – Salman this bar with total Bollywood ambiance will give you an adrenaline rush for sure. The bar is filled with music, sound effects and special effects and a set theme. There are filmy posters, props, star memorabilia that helps you realize your reel life dreams as they are displayed in this tiny region.
3. Maikhana Bar
This is more of a regal bar with an ancient Mughali Delhi style type experience. There are attractive features in seating and lighting too. You will definitely feel like the royal kings of Mughal era.
4. Culture Gully
This is one of the major attractions at KOD with tow lounge bars namely Kerala Bar and Mekhana Bar. It has a unique sky dome and grand architecture with decor and spreads across 100000 sq. ft. There are some visitors who visit only to see the Culture Gully which also has great shoppers choice with unique items.
It offers a great amount of experience of all states of India here. The fully air conditioned region can be said as the indoor street of India with pavilions of various cuisine at thematic restaurants, street performances, art and culture, etc. The cameras are allowed inside and you can click some great pictures here.
Ticket Price - INR 599 on Weekdays and INR 699 on Weekends. Closed on Monday
Timings
Weekdays: 1 pm to 6 pm
Weekends: 1 pm to 12 Midnight
Location: Sector 29, Kingdom of Dreams, Gurgaon. Near IFFCO Metro Station
How to Reach Kingdom of Dreams
This entertainment center is the nearest metro station to the IFFCO Chowk Metro Station on Yellow Line. Then you can walk down to the place or travel by auto rickshaw or even book a cab to reach the venue. The nearest bus stop is called DTC Bus stop and is also close to the IFFCO Chowk metro station. Otherwise book a cab or hire a taxi. If travelling in your own vehicle from New Delhi, take exit 6 of National Highway 8. There is parking facilities offered at the entertainment center.
This is an amazing family entertainment center which the entire family can enjoy. So, book tickets for Kingdom of Dreams here.