'Jyotirlinga' is a term coined up using two words- 'Jyoti' which means light and 'lingam' which means sign. This word is used to describe the shrine of Lord Shiva, Mahadev - the ultimate God. According to Shiv mahapuran, it was because of Vishnu and Brahma that lord Shiva pierced the three worlds as huge pillars of light, the Jyotirlinga. This was done to test Vishnu and Brahma.
Eventually, Brahma lied and Vishnu was honest. Shiva cursed Brahma that he won't get place in ceremonies thereafter but Vishnu will be worshipped till eternity. Since then, Jyotirlingas are the symbol of supreme light out of which Shiva partly appears.
It was believed that there were 64 jyotirlingas but 12 are considered as the holy ones. At every places, the lingam's describe the 'Stambha' pillar - without beginning or end.
Top 12 jyotirlingas of India are:-
1. Somnath Shrine, Gujarat
Somnath shrine located towards the western coast of India is in the state of Gujarat. This is considered to be first amongst the twelve jyotirlingas of India.
This is an important pilgrimage centre and over the years, this place has also turned into a famous tourist destination.
The temple of somnath is actually located in Saurashtra near veraval. Recently, it was reconstructed in 1951 under Sardar Vallabh Bhai Patel.
Somnath basically means the moon lord; hence somnath's history has a lot of connection with moon. According to research done towards the ancient Indian classical texts, the first somnath jyotirlinga pran-pratistha was done during the holy month of shravan.
According to some sources, this temple is around 7 crores years old and have been standing as pillar of inspiration for people of sanatan dharm since ages. There are many spots in the temple itself. They include Shri kapardi vinayak and shri hanuman temple along with vallabhghat.
2. Mallikarjuna, Andhra Pradesh
Mallikarjuna Jyotirlinga us located un Srisailam, Andhra Pradesh. This jyotirlinga is a diety of Mallikarjuna that means Lord Shiva and Brahmaramba- Parvati.
Along with being one of the twelve jyotirlingas, this temple also stands as one of the 18 shakti peethas of Goddess parvati. Lord shiva is worshipped by the Lingam.
According to some sources it is said that the temple was constructed and stands there from around second century.
Talking about religious important, the Shrikeshwar temple located in the way towards Mallikarjuna is said to be auspicious in case of rebirths. It is believed that, one who takes darshan of this temple doesn't get rebirth.
The most important festivals celebrated here are Mahashivratri and Navratri. Mallikarjuna swamy temple is currently managed and the administration is looked after by State Government.
3. Mahakaleshwar, Madhya Pradesh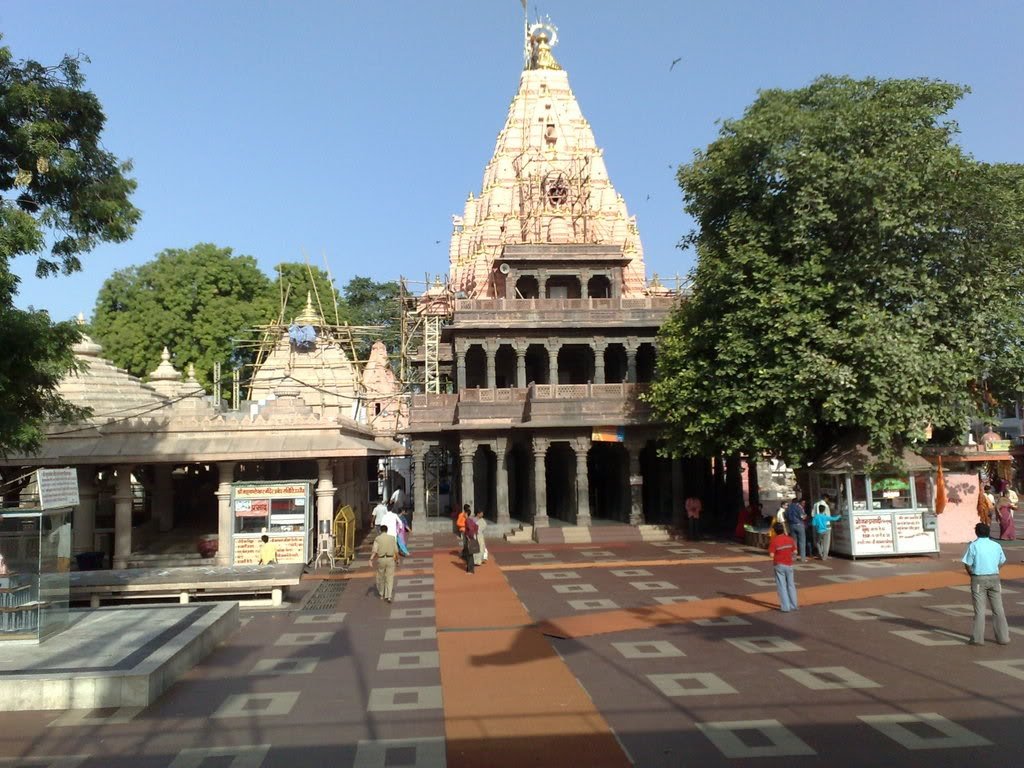 Out of the two jyotirnlingas located in Madhya Pradesh, Mahakaleshwar is one. Mahakaleshwar is located in the city of Ujjain and is said to be dedicated to lord Shiva.
This temple stands on the side of holy river shipra. The shrine of lord Shiva here is said - Swayambhu, which means the one who creates his own power.
The idol located in Mahakaleshwar temple is known as Dakshinamukhi. Dakshinamukhi basically means south facing.
This type of feature is inly seen in Mahakaleshwar out of twelve jyotirlingas. There are images of Ganesha, Parvati and Kartikey in different directions inside the temple.
Followed by the image of Nandi, the vehicle of Lord Shiva. Theire is also an idol if Nagchandreshwar for which the darshans are kept open only during nag panchmi. The present structure of mahakaleshwar temple was constructed by marathas. Currently it is under collectorate administration of Ujjain district. It is said that the city if Ujjain is dominated and work under mahakal and its majesty.
4. Omkareshwar, Madhya Pradesh
Omkareshwar Temple is located in the state of Madhya Pradesh. This temple is located on an 'om' shaped island called Mandhata or Shivapuri in Narmada River. There are two main temples located, one is Omkareshwar which signifies the lord of om sound whereas the other one is Amareshwar which means rge lords of immortals.
This temple also have shrines of Goddess Parvati and Five faced Ganpati. It is said that, when vindya, the deity of controlling Vindhyanchal ranges was worshipping to Lord Shiva for sins committed. He created a lingam made of sand and clay.
Shiva, pleased with this gesture, appeared in two forms- Omkareshwar and Amareshwar. And because that sculpture was in Om shape, the island was named as Omkareshwar. This place is also known as Adishankar's cave - The place where Adi shankara met his guru.
5. Kedarnath, Uttarakhand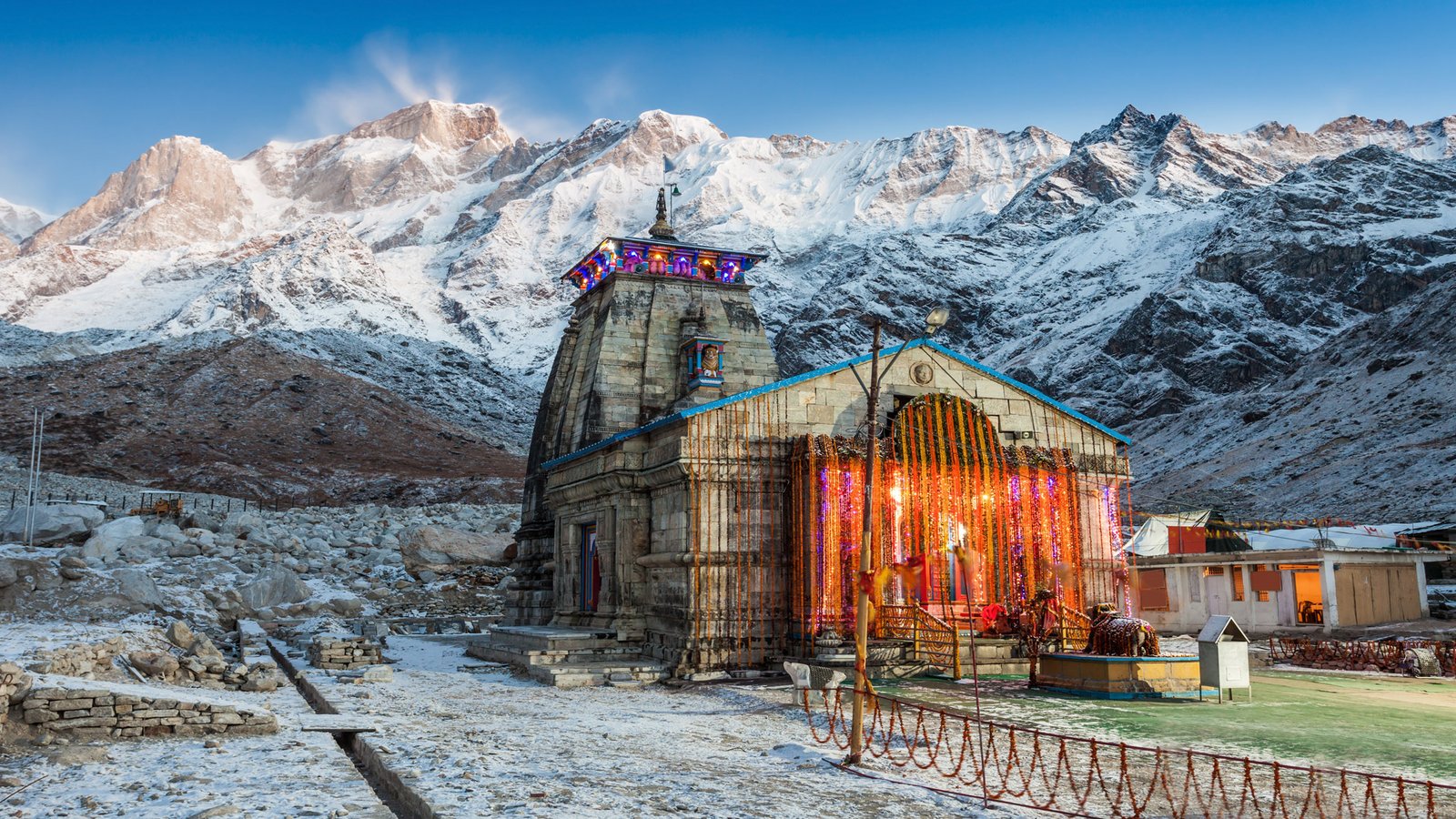 The Temple of Kedarnath is located on the Garhwal - Himalayan mountain range, near Mandakini River in the state of Uttarakhand.
The shrine of kedarnath is allowed to worship for six months due to extreme weather conditions. Then it is carried down to Ukhimah, where it is worshipped for next six months.
The worshipping and pooja's are done under Raval ji's supervision. Raval ji is the priest of Kedarnath. The time when the temple is open for darshan to people is between months of April falling from Akshaya Tirthya to November from Kartik Purnima.
Kedarnath is located in between mountains and is not easy to travel by roads. One has to trek uphill from gaurikund. History says that, this temple was built by pandavas and is considered to be as holiest amongst he shrines of shiva. This is also an important part of Chota Chardham Pilgrimage of India.
6. Bhimashankar Temple, Maharashtra
Bhimashankar Temple is one of the holiest shrines of 12 jyotirlingas located in the state of Maharashtra near Pune.
It is situated in the Ghat region of Sahyadry mountain range and also is the source of river Bhima.
Bhimashankar temple is the best example of when considered the construction part in Nagara architecture form. This structure was built in 13th century but the shikhara was developed later on by Nana Phadnavis.
Bhimashankar temple also have beautiful surrounding. The shrine is said to be Swayambhu Lingam.
Inside the temple there is also a shrine dedicated to Lord Shani called as Shanaeshwara and an idol of Nandi. It is said that formation of River Bhimarathi was done when the sweat poured out of shiva's body, during the fight against demon tripurasura.
7. Kashi Vishwanath Temple, Uttar Pradesh
Kashi Vishwanath Temple is one of the twelve Jyotirlingas and most famous Hindu temple. It is located in Varanasi, Uttar pradesh. The temple is situated on the banks of River Ganga.
The deity here is of Shri Vishwanath. Varanasi is also called as Kashi and the name Vishwanath of the deity altogether is called Kashi Vishwanath. Vishwanath basically means ruler of the universe.
This temple is created by Maharani Ahilya Bai Holkar, a maratha queen in 1780. Just like Ganga River is considered as holiest, Varanasi is also considered as a holy city for Hindus. There are many small temples in Kashi Vishwanath for Kaalbhairav, Dhandapal, Vishnu, Vinayak, etc. There is also a small lane consisting of number of shrines which is called Vishwanatha Galli.
8. Trimbakeshwar Temple, Maharashtra
Trimbakeshwar temple is located in Nashik district of Maharashtra. It is an ancient Hindu temple dedicated to Lord shiva. The holy River Godavari has its source from a pond here in Trimbak. This pond is a sacred pond known as 'Kusavarta'- a kunda in the temple area.
The architectural style of this temple is hemadpanthi and was constructed by Peshwa Baji Rao. The temple is formed between hills which represent three forms of Shiva- Brahma, Vishnu and Shiva. It is located in Brahmagiri, Nilagiri and Kalagiri hills.
9. Baidyanath, Jharkhand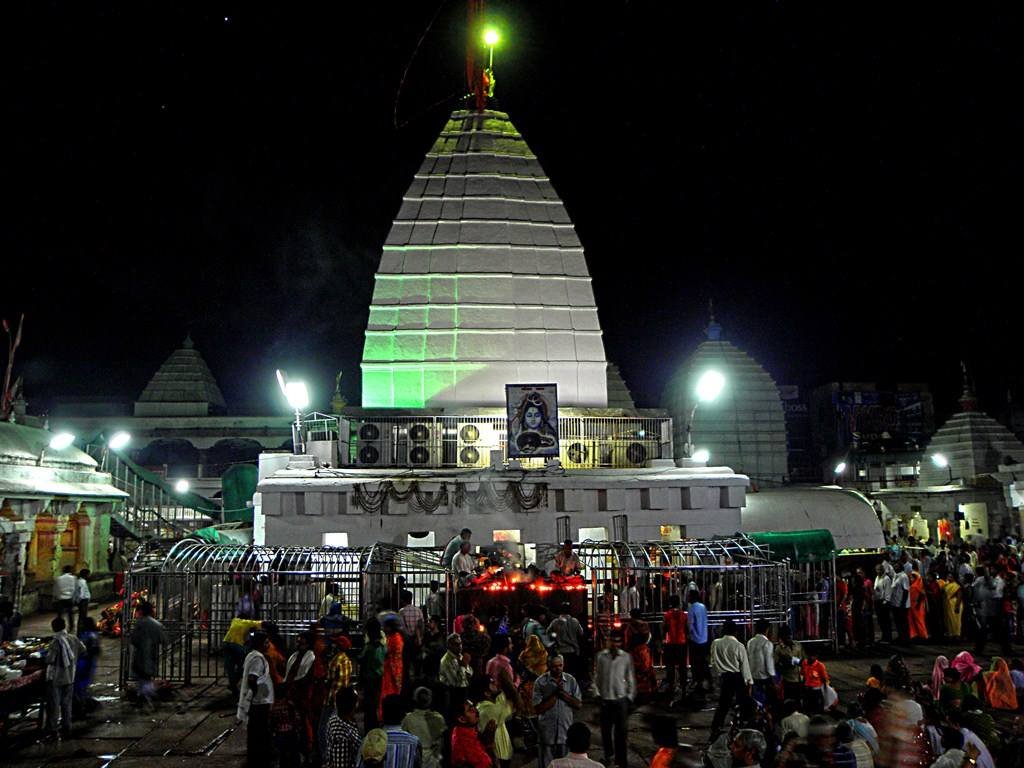 Baidyanath or Baidyanath dham located in Deoghar district between Santhar paraganas of Jharkhand is one of the twelve jyotirlingas of Lord Shiva.
Baba baidyanath is a group if 22 temples including Baidyanath - the temple with Jyotirlinga. This temple was created under Raja Puran Mak and is well known for its Shravani Mela.
This temple got its name when Shiva pleased with demon Ravana's gesture cured him being a vaidya, since then it is called Baidyanath. Another interesting activity carried out here is 'kanwar yatra' an annual pilgrim of devotees of shiva who are called as 'kanwariyas' or 'bhole'.
10. Nageshwar Temple, Gujarat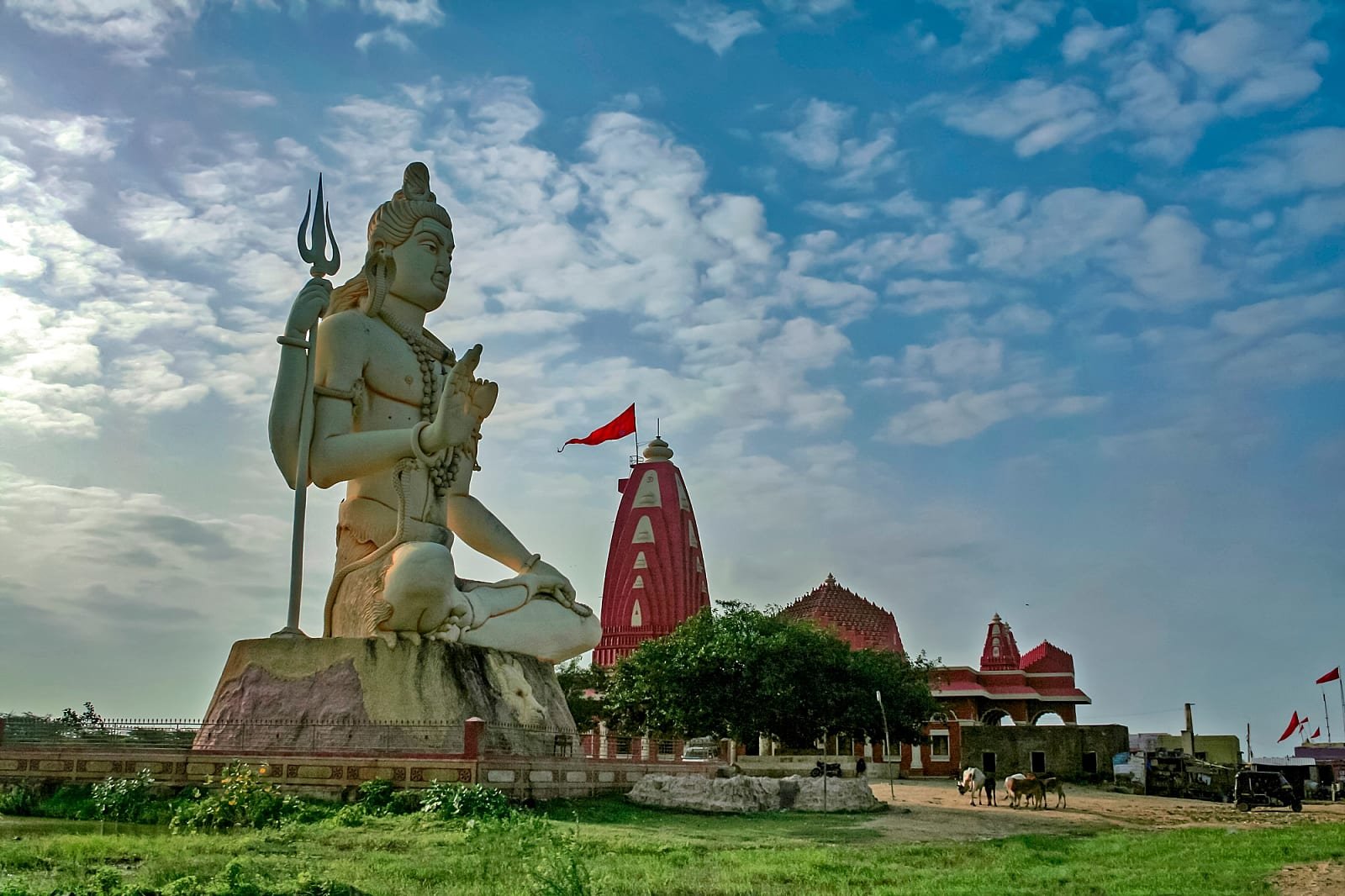 Nageshwar Temple is located in Devbhumi, Dwarika of Gujarat State. This temple is also mentioned in Shiv Purana and is in the list of twelve jyotirlingas.
It is said in the shiv purana that the Nageshwar jyotirlinga is actually located in 'Darukavana'.
Darukavana is an ancient forest named after a demoness- Daruki, wife of demon- Daruka. Daruki was a devotee of parvati whereas daruka had a fight with lord shiva as he imprisoned shiva's devotee supriya.
11. Grishneshwar Temple, Maharashtra
Grishneshwar Temple is in Aurangabad district of Maharashtra state. It is dedicated to lord shiva. The name 'Grishneshwar' means 'Lord of Compassion'. This temple is an important pilgrimage center for shaiva's of hindus. This is the last of all twelve jyotirlingas and is located near ellora caves. It eas reconstructed by Maratha Queen Ahilya bai holkar in 18th century. The temple is built in hemadpanthi architectural style and matches with South Indian architectural style too.
12. Ramanathaswamy Temple, Rameswaram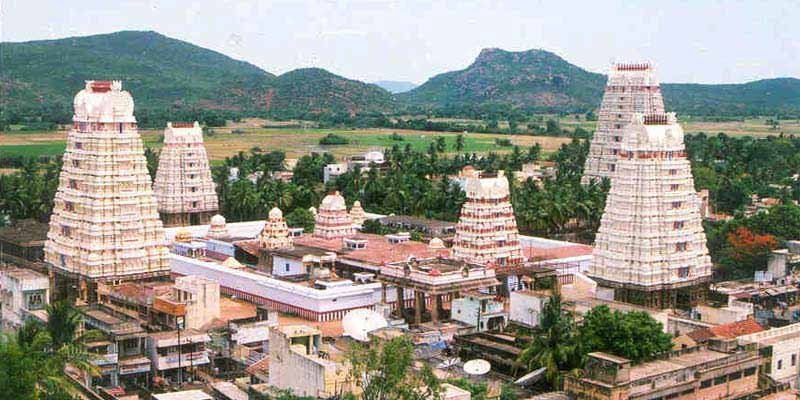 Ramanathaswamy Temple is located in Rameswaram island in Tamil Nadu. This temple is one of the twelve jyotirlingas the structure of this temple is according to dravidian architecture. The temple was constructed by Pandya Dynasty.
Whereas it was renovated by Jeyaveera Cinkaiariyan and his successor of Jaffna kingdom. This temple is considered a holy pilgrimage center for Shaivites, Vaishnavites and Smarthas. Amongst all the temples in India, Ramanathaswamy has the longest corridor. This temple is also included in the Char Dham pilgrimage along with Badrinath, Jagannath and Dwarkadheesh.