Elephant Experience in India – Where to See and What to do
Riding on the back of a mighty elephant is a treat for everyone. If you are visiting India, you ought to enjoy elephants at least once during your vacation. Elephants are not just a part of zoos and national parks, anymore. With tourism developing in bounds and leaps, you can enjoy your vacation with elephants in a lot more ways than you can imagine. Enjoy your Elephant Experience in India.
This article is a hands-on guide for everything that you can do and enjoy with elephants. There are very few activities in the world that can entertain people of all age groups and ethnic backgrounds. And, an elephant can do this magic anytime during your vacation.
Elephant Safaris in India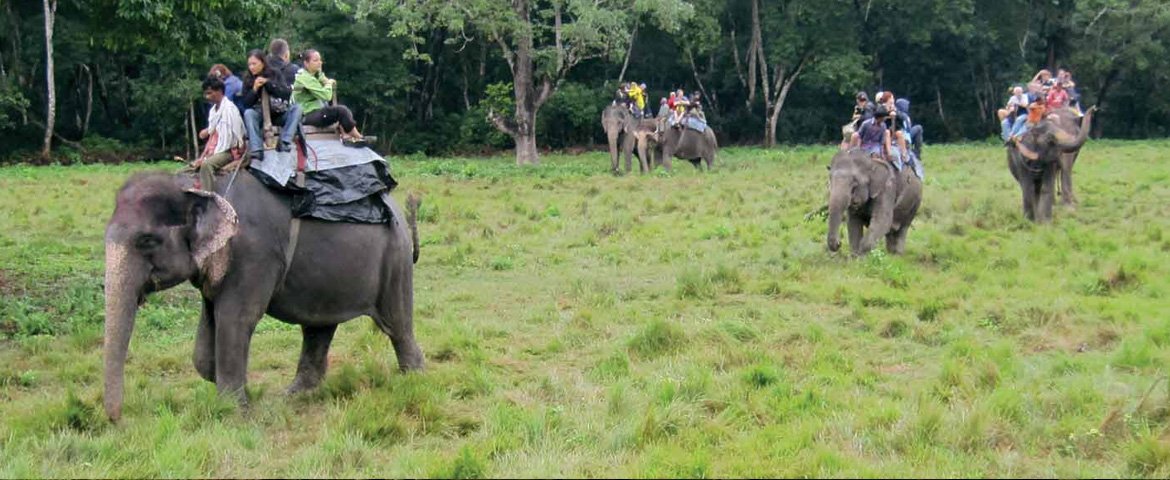 Safaris on elephants are very common in forest-filled destinations like Kerala, Assam, Madhya Pradesh, Uttar Pradesh and others. In almost all national park and sanctuaries, you can find elephant safaris. Elephant safaris are the best to watch big jungle mammals from close quarters. If you are on a lion safari or rhino safari, staying on top of the elephant keeps you safer than you can imagine.
Top spots for Elephant Safari in India
Sundarbans national park, West Bengal
These are just the top wildlife national parks that provide elephant safaris in India. You can check the official site of any national park to learn about the availability of elephant safari.
Tips for Elephant Safari in India
Certain wildlife national parks require advance booking and some use first-come, first-served concept. Call and confirm with the officials about the safari.
Safari in the parks will not be available throughout the year. Usually, safaris are closed during monsoon season. Learn about the availability of the service.
Safari can stretch for two or hours. Always carry water with you.
Do not over-pack. Your bag should be compact to be fastened on the back of the animal.
Do not feed the elephant or try to get on its back on your own.
Once you are on its back, treat it with respect. Kicking or punching the animal can cause dangerous consequences.
Must Read: Best 10 Places to Visit in Uttarakhand in Summer with Family
Elephants Festivals in India
India is the land of unique festivals. You can find a few celebrations that include the use of elephants. Elephants are used in processions, for blessing pilgrims and as a palanquin for deities. Kerala is the iconic place to find elephants in festivals. This is one of the famous place for elephant experience in India.
Guruvayur Temple of Kerala
This temple has more than 60 elephants and there is an elephant palace near the temple (3 km). These elephants will be decorated with ornaments, bells and others and are used for daily ceremonies in the temple.
This festival is celebrated on the day of Holi festival (festival of colors). You can find procession of elephants along with dancers, horse and camels. Other features of this festival are elephant polo, elephant dance, elephant beauty content, tug-of-war between elephants and many others.
Pooram Gajamela – Festival of Elephants in Kerala.
Using this festival, elephants are decorated and taken on a procession. There are more than 50 elephants used in the celebration.
A lot of other festivals in Kerala, Tamil Nadu, Rajasthan, Madhya Pradesh and other states of the country include elephants.
Tips Elephants in festivals
Do not get near an elephant when the caretaker is no around.
Do not feed the elephant with any food items. You can stick with bananas, if you want to feed it.
Some elephants are trained to bless people to placing its trunk on your head. Do not try to get blessings on your own without the trainer.
Suggested article:- Fascinating Elephant Ride In Rajasthan
Elephant Camps in India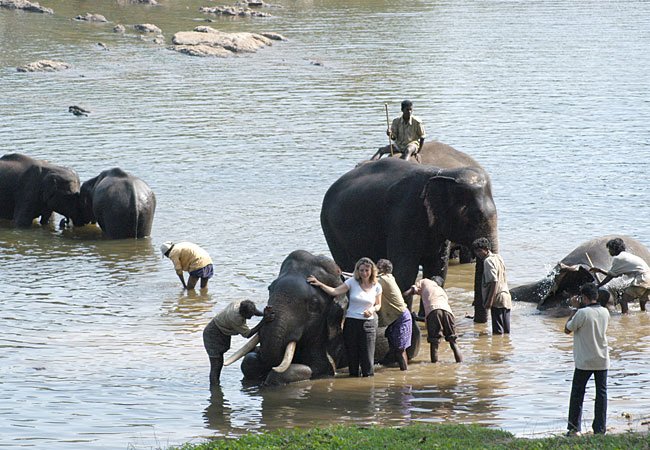 Elephant camp is the best way to get as close as possible with elephants. The elephants in the camp are trained to play with children. You can bath the elephants, feed them, play with the cubs, learn about the tusked mammal and go on a safari in the camp. Top elephant camps in India are
Sakrebailu elephant camp, Shimoga
Punnatthurkotta, Guruvayoor
Theppakadu elephant camp, Mudhumalai
Dubare elephant camp, Kodagu
Tips for Elephant Camps in India
Do not feed any outside food or snacks to elephant. You are supposed to feed what the caretaker provides you.
Do not irritate the animal or hurt it.
Do not go close to any elephant without a caretaker.
If you want to bath the elephants, you need to reach the camp as early as possible.
Apart from these, you can find elephant polo matches, elephant rides at famous tourism spots like Amber fort and others. Many travel agents can create an itinerary so that you can spend a lot of time along with these tusked animals during your vacation. You can also explore our Travel Guide for more experiences.
Suggested tour packages to discover the Elephant Experience in India-