Foreign nationals who are planning to visit India should possess a valid visa to enter the country, legally. Are you planning an Indian visit? Here is everything you need to know about Indian Visa.
Types of Indian Visa
There are numerous types of visas based on the reason for your visit
1. Tourist Visa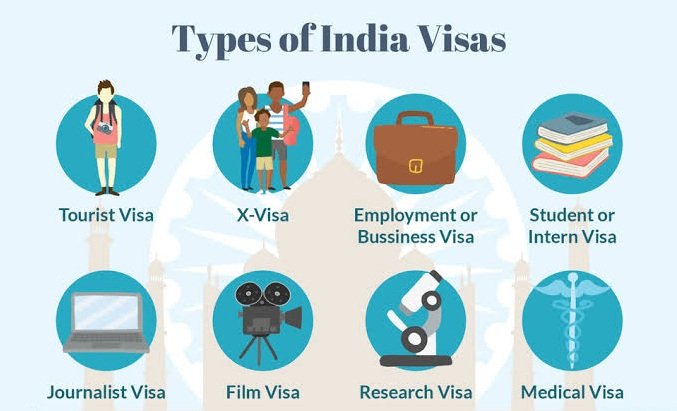 Applicable for short term visits and under this visa, the holder cannot stay in India for more than 6 months straight.
2. Employment Visa
Applicable for long term stay for those who work in any concern registered in India
3. Intern visa
This visa is valid for one year and applicable for those who take up an internship at any concern in India
4. Student Visa
This visa is valid for 5 years and can be extended depending on the course. It is issued for students studying at any authorized institution. This includes studying Yoga, dance, music, culture or other heritage elements too. Student Visa cannot be converted into a work visa.
5. Business Visa
Multiple entry with up to 180 days stay – applicable for those who intend to perform business with government or private organization in the country.
6. Conference Visa
Short term visa provided to those who are visiting the country to attend any conference
7. Medical Visa
Long term and short term visa provided based on the type of medical condition. A medical visa can be accompanied by two medical attendant visas.
8. Journalist visa
Three months visa provided for journalists employed by any media company. This is the hardest form of visa.
9. Research Visa
Provided to people who visit India for research purposes.
10. Film Visa
Issued to the crew of a TV show or film or ad, who wish to shoot any scene in India. Valid up to one year. If you are shooting a documentary, you would require a journalist visa.
11. X Visa
if your visit does not fall under any of the above categories, you will be provided an X visa. This includes a foreigner of Indian origin, sport event participants and others.
12. Transit Visa
Visa for those who are planning to stay in India for less than 72 hours. Tourists have to submit details about departure flight tickets to receive a transit visa.
Who does not need a Visa to enter India?
Citizens of Nepal, Maldives and Bhutan do not need a visa to enter the country. If the Nepal citizen decides to visit India via China, a visa is required. If Maldives citizen decides to stay in India for more than 90 days, a visa is required.
Where and How to Apply for a Regular Indian Visa?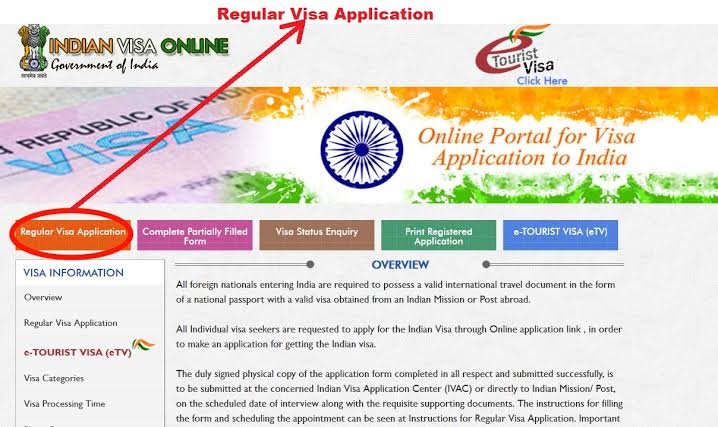 There are two types of visas depending on the type of application. The regular Indian Visa is the one, which is issued by the Indian government officials in your country. You would have an official visa stamping on your passport before entering India. In the case of e-visa, you can apply online and submit the form at the immigration center after entering India. The physical visa stamping will be provided at the airport.


Step One
Download the visa application form from the official government site. Fill the form and submit it as requested.
Step Two
A confirmation page would be sent to you. Download it and bring it to the Indian visa application center at your area or Indian mission along with other requested documents.
Step Three
After a few formal discussions and document verification, an acknowledgment form would be provided to you.
Step Four
Your passport along with the visa will reach you via post or, you can collect them at the visa application center. The status of the visa can be monitored via links in the official site.
How long will it take to get the visa?
The processing time depends on the type of visa. For instance, a journalist visa would take a very long time for processing when compared to tourist or business visas. Processing time also varies with season. During the peak tourism season, the processing time would be slightly higher due to the number of requests reaching the center.
In general, a visa processing time is between 3 to 5 working days.
An Indian origin local citizen visa could take at least 14 days for procession.
In cases of requisition of a reference check, the processing time depends on the time taken for a reference check. For such a visa, the processing time is at least 7 working days.
Visas for pilots or crew members would require 5 weeks of processing time.
Visa for Pakistani citizens or ex-Pakistani citizens would take a minimum of 6 weeks of processing time.
In the case of e-visa, you would receive the documents within 72 hours.
Permits for Restricted or Protected Areas in India
According to the acts passed in 1958 and 1963, foreign tourists require PAP (Protected Area Permit) or RAP (Restricted Area Permit) to visit any protected or restricted area. If you are an Indian citizen, you need to have ILP (Inner Line Permit) to visit these areas.
Requirements for receiving PAP or RAP are
Tourists have to be in groups, at least two tourists.
The tourists should be accompanied by a certified travel agent registered in the region.
If you are a citizen of Myanmar, Pakistan, Bangladesh or China, you need to have special approval from the Ministry of Home Affairs to receive PAP or RAP.
The validity of PAP or RAP is ten days and can be extended for an additional 7 days.
Areas which require PAP to visit are
Sikkim
Remote regions of Arunachal Pradesh, Himachal Pradesh, Rajasthan, Jammu and Kashmir, Uttarakhand, Mizoram, and Manipur.
Areas, where RAP is required, are
Andaman and Nicobar Islands
Remote regions of Sikkim
You can find forms for PAP and RAP in the official Indian government site. If you are choosing a tour package, the tour agent would help you in applying for the permits. PAP or RAP can be applied online or through any of the government offices in the region. PAP and RAP facilities are also found in these regions. The easiest way to apply for permits is to apply via tour agents.
How to get an Online visa for an Indian visit?
Since 2014, the Indian government is providing e-Visa for only the tourist visa, medical visa (medical attendant), conference visa and business visa. If you are looking for other visa applications, you need to go for the regular visa application process.


Step 1
Check whether you are eligible for e-visa. Not all countries' citizens are allowed to receive e-visa.
Step 2
Visit the official site and enter the e-visa page. You will find a long application form, which requests information like passport details, family details, occupation, thereason for the visit and so on.
Step 3
Scan and upload requested documents like pages of passport, a digital photograph with white background, bio page of passport and so on.
Step 4
You need to provide the details about your entry and exit dates.
Step 5
Pay the processing fee via debit card, Paypal account or credit card. You would receive an email acknowledging your visa application. Within 72 hours, you would receive ETA mail (Electronic Travel Authorization mail). This is your e-visa. Take a physical copy of this mail with you.
Step 6
E-visa is accepted only in certain airports and seaports. Once you enter India, submit the email to the immigration officer. After formal checking, the visa will be stamped to your passport.
Processing fee for e-visa
For most of the countries' citizens, the processing fee is USD 50. If you are a citizen of the UK, USA, Mozambique, Russia or Ukraine, the fee is USD 75. USD 25 is charged for citizens of Sri Lanka, Singapore or Japan. Visa processing fee is not applicable for citizens of Fiji, Cook Island, Niue Island, Solomon Island Tonga, South Africa, Marshall Islands, Jamaica, Argentina, Uruguay, and others. In addition to the processing fee, a bank fee is also levied for card payments.The processing fee also varies with season. Peak season will have a higher visa processing fee than lean season.
Tips for Indian Visa Application
Your passport should have a minimum of 6 months of validity and two blank pages.
If your parents or any of your grandparents were born or have lived in Pakistan, you cannot apply for e-visa but, you are eligible for a normal visa.
Payment of visa processing fee does not guarantee you a visa. In the case of visa denial, the processing fee would not be refunded.
You can apply for a tourist e-visa for up to five years. If you are choosing a regular visa, you can apply for up to ten years.
Even a small mistake like a typo in name can lead to delay or dismissal of visa application.
Comparing the processing fee, for visas less than one year, the e-visa is more profitable.
You cannot apply for the visa more than 120 days prior to your visit and you need to apply it at least four days prior to your travel date.
You can apply for e-visa, two times in a year.
Regular visa is accepted in all international airports and seaports. E-visas are accepted in 24 international airports and five seaports of the country.
With e-visa, you cannot stay in India continuously for more than 60 days.