Top 10 Famous Tree Houses in Sri Lanka
In Sri Lanka, Tree houses are called as watch hut. It is an elevated accommodation option where you can enjoy a gracious view of the region around you, stay clear of elephants and have an outlook over harvest-ready fields. Today, these watch huts have turned into interesting tourist accommodation option. You can find private and unique tree house with has the feel of primitive watch hut, but also have infinity pool, Wi-Fi and other luxury accommodation options.
Are you willing to give a try to these tree houses? Here are the top options in the country.
1. The Ark
This tree house has beauty inside and outside the accommodation area. It is not just a tree house in some random location. It is a tree house with signature comforts, located amidst acres of estates filled with rubber, cinnamon and tea plantations. You would be far away from the civilization filled with commercialization. The tree house is 14 km away from Matugama.
This is your chance of luxury wildlife vacation. Spend the day enjoying and exploring the regions around you or sit by the pool and get pampered. Located in the middle of Forest Sinharaja, this tree house has numerous suites and the entire hotel can be booked for private parties.
Read also: Check out the list of adventure destinations in Himachal Pradesh?
2. Saraii Village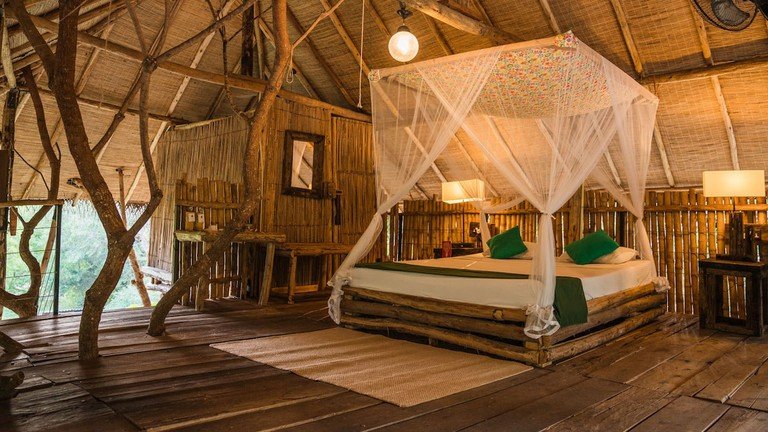 As stated before, tree houses are not something new for Sri Lanka. How about enjoying in an accommodation that is similar to the traditional watch huts of the country. The Saraii Village, provides tree houses and cottage accommodation options in an ambience and architecture, very similar to the traditional ones. Thus, no man-made object is used during the construction process.
The place is the deepest you can go to enjoy a raw vacation. There is a salt-water pool for rejuvenation and you can spot many wild animals roaming in the grounds. The place also has many traditional activities to enjoy like pottery, curd processing and many others.
3. Back of Beyond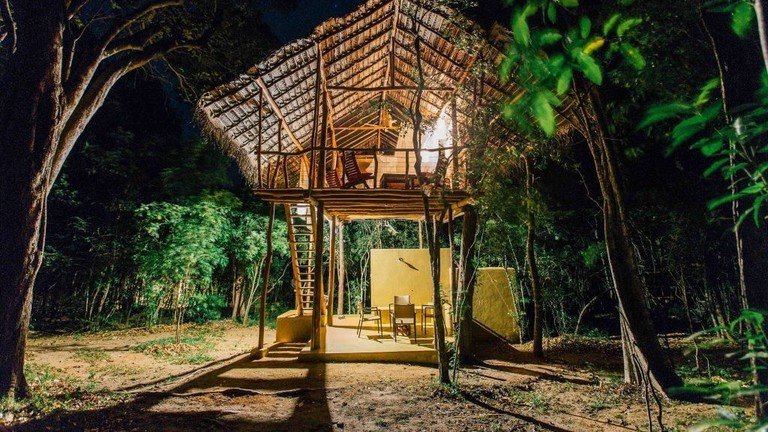 This is the first tree house resort of Sri Lanka. This resort started treehouse accommodation in 2007 and still one of the top favorites of tourists visiting Sri Lanka. Located close to the Fortress of Sigiriya, this resort is located in the middle of Pidurangala Rock forest.
The ambience and environment have rich nature element. You need not worry about urban life pestering you in this region. However, you would not be deprived of amenities like Wi-Fi, fine dining restaurant, children play area, sightseeing spots and much more.
4. Back of Beyond Dehigaha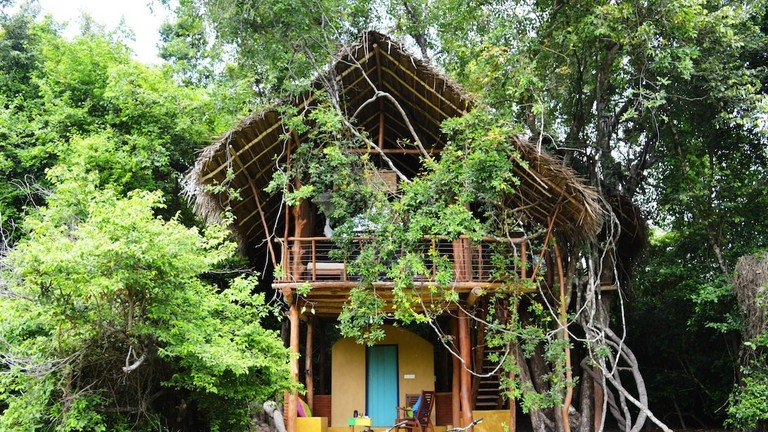 This is an accommodation, which is a part of the famous 'Back of Beyond' brand, located in the southern jungles of Dehigaha Ela. Only two suites of this hotel are treehouse accommodation options. It is also located close to Sigiriya Fortress and this is the place to enjoy Cultural Triangle.
This is the paradise for anyone who loves nature. You can find all styles of modern amenities here, bombarded with top-notch natural elements and raw surroundings.
5. Elephant Watch Hut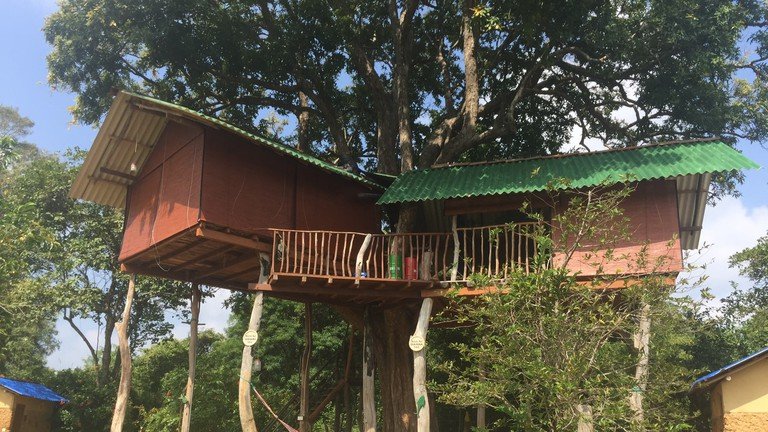 This is a classic jungle watch hut located in the southern plains of Sri Lanka. Located close to the Habarana, this is the place to spot elephants. Since you are perched on top of a tree, you can spot elephants, without fear. Acres of grassland surrounds the tree house and spotting wild elephants is easier.
This tree house also provides many wildlife attractions like signature excursion into wildlife, elephant safari and many others. If you were looking for classic Sri Lankan vacation, this would be a good choice to start with.
6. Huma Terra Green Lodge
This is a mixture of green vacation and tree house stay. Huma Terra has just five tree huts located on a large tree surrounded by Ayurveda center and acres of lush paddy fields. Dry bathroom, photovoltaic lighting, compost and many other elements of this tree house encourages green living.
This location is for those who want to enjoy a vacation, knowing that they are reducing the carbon footprint. You can enjoy a realistic tree house experience here.
7. Resort – The Tree House
This is a modern amenities filled resort styled tree house. Starting from dedicated front desk to continental breakfast, this place is for pampering. You can enjoy a lot of natural attraction and activities like cycling, dicing, car drive, hiking, yoga classes and much more.
The most important feature of this resort is that, it allows pets to accompany the tourists. With the rugged mountain view and the lush Ginigathena location, the tree house makes your stay more green and adrenaline-filled.
8. Rustic Glamping Tree house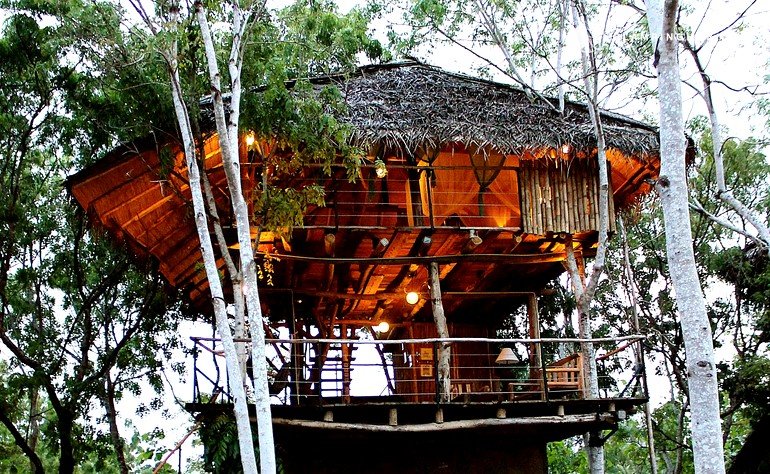 This treehouse provides top-of-the-class amenities and is the paradise for bird and wildlife lovers. There are three styles of accommodations in this resort. You can enjoy songs of birds from your bed and get a great view from the balcony. The activities inside the resort might be minimal but you can always rely on the restaurant for fresh local cuisine.
There is also a bar inside the accommodation. You can enjoy signature spa, barbecue evening, bicycle ride, outdoor pool and many other amenities inside the resort. Once outside the treehouse, you would be surrounded by acres of organic vegetation and forest properties. There are numerous national parks, ancient sites, rock caves, temples and Krinda beach, close to the property.
9. Tree House LK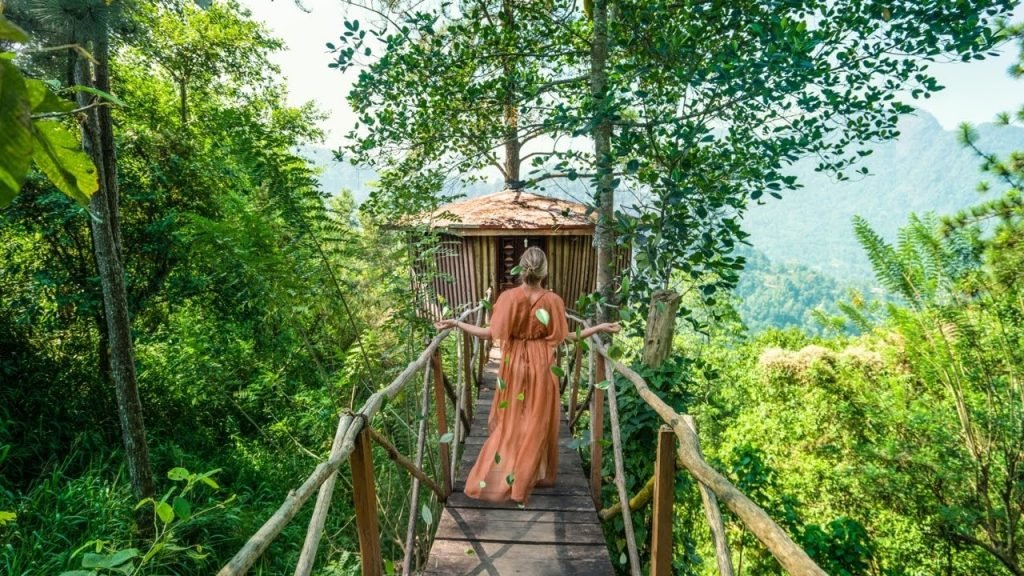 This is a unique style of tree house built on pine trees. You would be perching 30 feet above the ground. There are wooden bridges that connect one tree with another. Each room has a private balcony, separate dining area, diving in Kehelgamuwa Oya, camping on forest grounds and much more. This is the right spot to find 35 different species of local birds. This is also the best place for honeymoon and romantic vacations.
10. Yala Tree House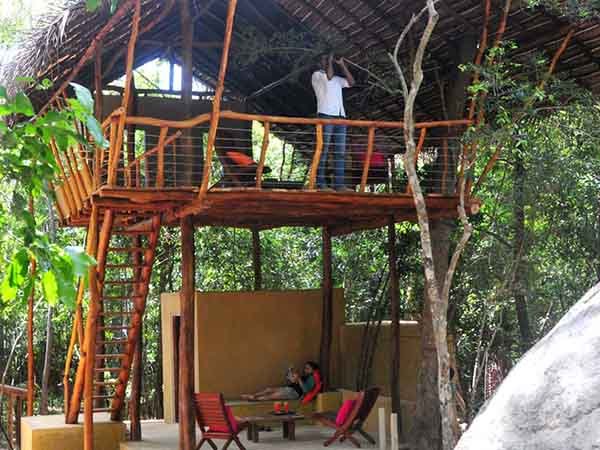 This tree house is located in the second largest national park in the country, Yala. You can spot numerous small mammals and birds from your balcony. You can alter your vacation with your choice of activities, travelling experiences, sea boat services, safari activities, camping and much more.
Apart from the excitement of tree house stay, you can enjoy dolphin watching, lighthouse visit, whale watching, visit to ancient sites and much more. This tree house has a strategic location that keeps you busy with the activities in and around the accommodation area.
Apart from these ten tree houses, there are numerous other tree houses for you to choose from. After all, vacation is all about creating new experience. Choose a tree house that provides high style authentic tree house stay with natural activities around it.
Popular tour packages of Sri Lanka