Top Destinations to Enjoy Hot Air Balloon Safari in India
Hot air balloon ride is one of the fantasy dreams of many that can come true in India. Although a mode of transportation in the past, today it is an exotic adventure activity around the globe. The gush of excitement as you rose up the sky to get a bird's eye view of your destination is unexplainable. Floating in open air is certainly an adrenaline rushing activity. In India, hot air ballooning is becoming more and more common among tourists. Not all destinations are endowed with this activity.
Here are the top ten destinations in India for Hot air balloon safari.
1. Hot air balloon safari in Pushkar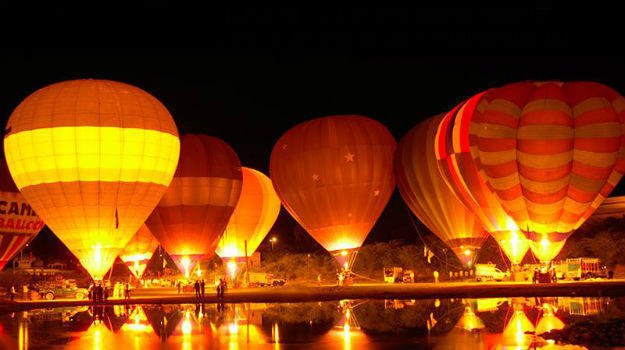 Famous as the camel capital of Rajasthan, this town is not just about camel fair and culture. Hot air balloon ride is one of the activities that you can enjoy during the Pushkar camel fair. Hot air balloon safari will take you above the grounds of the fair to watch the gathering of camels, audience and the lake. The ride is open at 5 in the morning and at 4:30 in the evening. The balloon ride is best enjoyed during sunrise and sunset. The demand of the activity is very high and it is served on first-come first-served basis.
2. Hot air balloon safari in Jaipur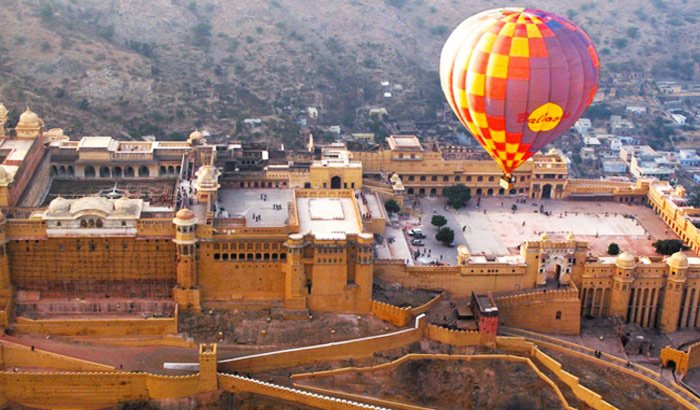 Apart from the stunning architecture, palaces, forts, havelis and others, this city is famous for hot air ballooning. Getting a panoramic view of the place dotted with palaces and gardens is something that you would remember forever. The cost of the ride can vary from INR 6,000 to INR 12,000 depending on the type of service. Hot Air Ballon Safari in Jaipur is one of the top luxury activity enjoyed by many tourists here.
Explore Hot Air Ballon Safari in Rajasthan 
3. Hot air balloon safari in Agra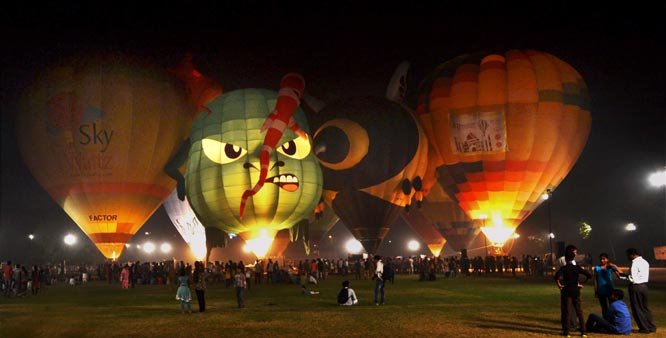 In this destination, the activity is added additional beauty by soaring over Taj Mahal. You get to ride over Mughal monuments at a height of 500 m from the ground. This is an important honeymoon activity for tourists in Agra. There is an emotional factor in watching Taj Mahal as you float amidst the clouds.
4. Hot air balloon safari in Manali
Known as the destination for adventure sports, Manali is a must visit for hot air balloon safari. Soar over mesmerizing rivers, landscapes and grasslands with snowcapped mountain backdrop. Make sure to pack yourselves in woolen clothing, as the temperature will instantly drops as you soar up high.
Read more about – Adventurous Sports in Manali – Paragliding
5. Hot air balloon safari in Kamshet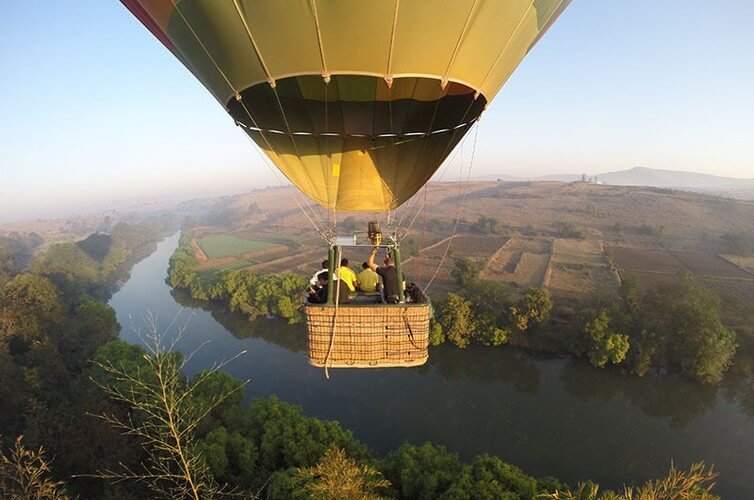 Located in Lonavala of Maharashtra, this place is very famous for weekend getaways from Mumbai. The balloon rides are open only during sunrise and sunset. Lonavala has interesting landforms of scenic beauty, which adds more value to your time on the hot air balloon safari. This destination is just 100 km away from Mumbai. The drive to the destination from Mumbai is also a worthy activity.
6. Hot air balloon safari in Delhi
You can enjoy city tour on a hot air balloon safari in Delhi. The trips are organized in specific places like Neemrana, Damdama Lake, Sohna and others. The ride is open during early morning and evening only. This ride is available only during the tourism season, September to March. This trip is one of the best activities to enjoy in the capital of the country.
7. Hot air balloon safari in Bhopal
The ride in this city starts from Jeet Stadium. Each ride spans for two hours. Bhopal provides this service only during the tourism season and during rain or heavy weather, the activity might be cancelled. Some service providers even offer pick up from the hotel room to enjoy this adrenaline thumping balloon ride.
8. Hot air balloon safari in Darjeeling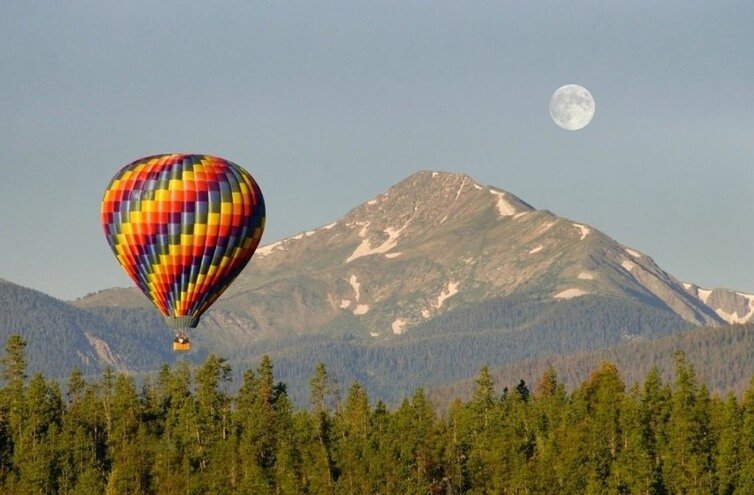 Hot air balloon safari over the most – mesmerising hill station is a double treat. You will be floating at a height of 300 ft above the ground. Private rides are not common here. A balloon holds minimum of 15 people and the cost of the ride is relatively lower here. This ride is open only in the evening and, when the sky is clear. October to May is the right time to visit Darjeeling for hot air ballooning.
Also explore – Tea Plantation in Darjeeling
9. Hot air balloon safari in Goa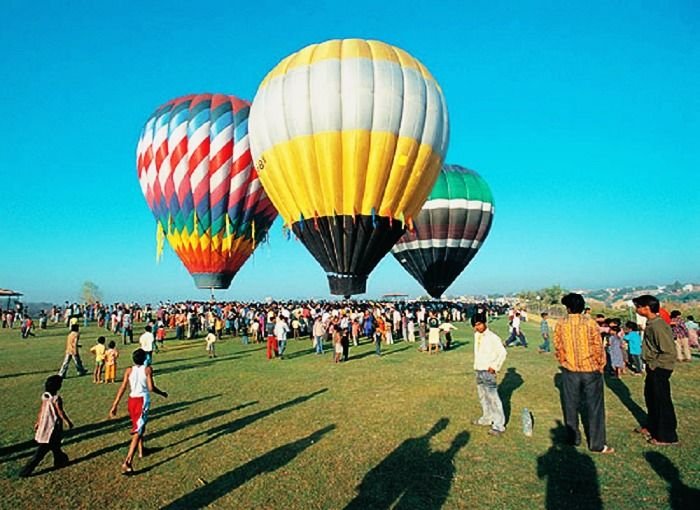 Goa is one of the few destinations that were the pioneer of this activity in India. Most popular during the winter season, the ride takes you over the shoreline, lush landscape and more. The balloon ride typically spans for an hour and it costs around INR 14,000 per individual.
10. Hot air balloon safari in Hampi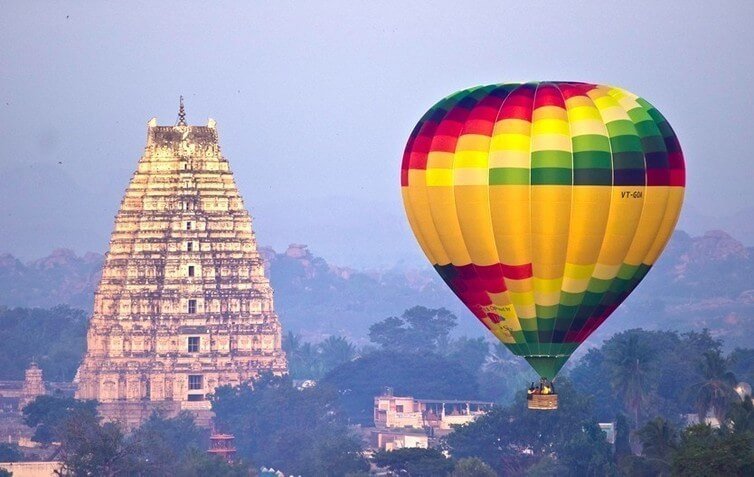 This historic site is famous for calm ballooning over the ruin sites. The ride pulls you up 500 m above the sea level. It costs around INR 12,000 per head. Watching the cave sites from above the ground is a fascinating activity here for adventure lovers.
The activity is not open throughout the year in all destinations. During heavy rain and strong wind, the activity will be closed for safety. Make sure to pre-book the activity and visit during the prime tourism season to enjoy this activity. Although the climate will be pleasant on the ground, you tend to feel cold when you are floating in the air and thus, it is better to wear thick clothing. Some service providers create customized ride with flowers, champagne and others for a romantic time or Valentine's Day Special gifts.