Tourist Attractions in Khajuraho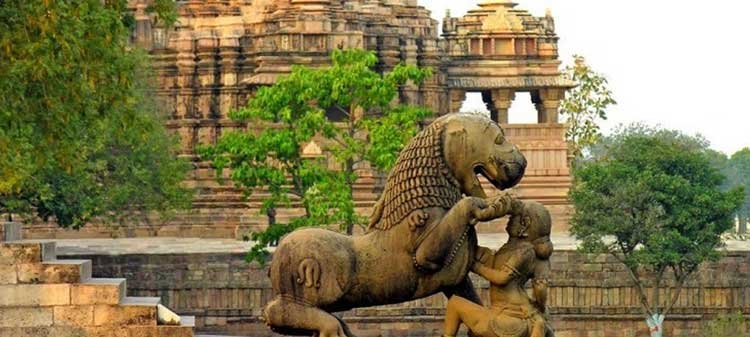 What to see in Khajuraho India
Whether you are a lover of art or not, Khajuraho will still be a treat to your eyes with all its rock carvings and intricate designs. This is a destination where you can walk to unravel the mysteries of the bygone days, live in the cities of simple folk who speak less yet say a lot, and a place where you can be one with nature. Located in the state of Madhya Pradesh in India, with the backdrop of the Vindhya Mountain range Khajuraho is the perfect destination for people who love historical tales, appreciate art, and the serenity of nature. The mains sights here are the marvelous temples of the Hindus and Jain and describing the beauty of the rock carvings is no easy a feat.
As far as history goes these temples were constructed by the kings of the Chandela dynasty between the years 950 AD and 1050 AD. But after the fall of the ruler the temples were left unattended for several years until later to be found within a dense forest of palm trees, hence the town which was earlier known as Vasta, came to named Khajuraho. 'Khajur' is the word for date palm in Hindi. Sadly, out of 85 temples there are only 22 that survived the test of time. So, here are main attractions to see in Khajuraho, India:
The temples in Khajuraho:
They have declared as a World Heritage Site, due to the presence of exquisitely intricate sculptures, life-size statues and busts and the stunning architecture. Famous for its erotic carvings, the temples bear such bold artistic pieces as they were constructed to offer sex-education to boys who were away from their homes on hermitage, about life and its pleasures. In the past days boys were sent away from home in gurukuls where they only learned to gather knowledge and had to maintain celibacy. These old temples lay testament to the society that was confident and bold about the realities of life, and the art of sex.
The depiction of confident women in the temples also portray how their role in the Indian society has only gone retrograde; as femininity is well described as strength more than just being an object of pleasure.
One of the most noteworthy temples that one must visit is the Lakshmana Temple, constructed in the years somewhere between 930 AD to 950 AD. This temple is dedicated to the Hindu God Vishnu and has marvelous artistry of sculptures, erotic carvings and massive architecture.
Kandariya Mahadev Temple
Out of all the structures in Khajuraho; Kandariya Mahadev Temple is best kept and also makes for the most visited. Built in B.C. by Raja Dhanadadeva, this temple is dedicated to Hindu God Shiva surrounded by 646 statues around the sanctum making it a perfect place to be in.
Southern Group of Temples
The Southern Group of temples consist of Chaturbhuja and Dulah Dao temples as the main attractions. Dedicated to Lord Vishnu and Lord Shiva, these are exemplory examples of Indian Classical Dance Architecture.
Western Group of Temples
This one is known for Chaunsat Yogini temple, Lakshamana temple dedicated to God Brahma, Vishnu and Shiva and Vishwanatha temple with three headed idol of Lord Brahma.
Local Market and Surroundings
Local Shoppig area is a must visit. A perfect depiction of local life and traditions can be seen and felt here. Go for light shopping including some of the trendiest light weight dresses as well as traditional attrie made by some of best artists of Madhya Pradesh. Pots and idols too are unique.
Panna National Park:
One of the most popular tiger reserves in India, Panna National Park hosts several wildlife species apart from the famous jungle cat as well. Like hyenas, spotted leopard, wolves, among several others. Elephant safaris, boat rides and privately organized jeep safaris are available for the visitors to partake in. Further accentuating the beauty of the dense forest is River Ken that passes through it, definitely worth a visit.
Ajaigarh Fort:
Located at the perfect vantage point of 206 metres on the Vindhya Mountain range, this fort offers the best view of the River Ken and the surrounding dense growth. Another glorious specimen of Chandela dynasty's architectural wonders. It is said that this was constructed during the decline of the kings, and it still stands tall to tell the tales of royal past enriched with art and culture.
Raneh Falls:
An interesting waterfall located 20 km away from Khajuraho, where the water rapids rushes in between odd rock formations making up for a stunning view. The area around the fall has dense outgrowth of forest and is a sight to behold during the monsoons, as several hundreds of waterfalls create magic in between the rocks. Visit this spot during the sunsets and witness multi-colored granites tell their story of magic under the red sunlight.
Jain museum:
Built in the year 1987, this museum houses several breath-taking specimens of Jain sculptures. A must- see place for lovers of art and sculptures with amazing historical stories behind each exhibit.
Beni sagar dam:
Spread across a massive area of 7.7 km, this is the perfect spot to enjoy the tranquility of nature. This is also a popular picnic spot and offers several other activities such as, boating, swimming, etc.
Archeological Museum:
Built in 1910, by by W.A. Jardine the museum houses loose sculptures and architectural ruins that were once part of the temples in order to preserve them. There are about 2000 sculptures displayed in this museum.
Khajuraho is a place which not offers visual delight to its visitors, but also seeks to move people with the rich cultural heritage of the past.
Festival in Khajuraho
Khajuraho Dance Festival : Held in Chhatarpur district, its a week – long festival of classical dances held at Khajuraho temple.
Khajuraho Film Festival: Its a seven day festival held each year at Khajuraho. Held every year in the month of February; its a much awaited festival with many film stars ventuing it.
Dussehra: Dussehra is held over the entire Madhya Prashesh with much pomp and show. In Khajuraho too this is much awaited festival with many Rang Mach celebrating it.